Intel Core 2 Duo performance preview
A taste of things to come, but when?
The overall PCMark 2005 score is more than 1,100 points higher than the FX-62's score which is nothing short of incredible as the FX-62 is a higher-clocked processor, although some of this has to be credited to the graphics cards. The default render test in POV-Ray shaved 1m 12s off the FX-62 in dual-core mode. Conroe was 2m 12s faster when both CPUd were running in single core mode. With results like this Intel better have a stock pile of processors lined out to be ready to ship if nothing changes from now on.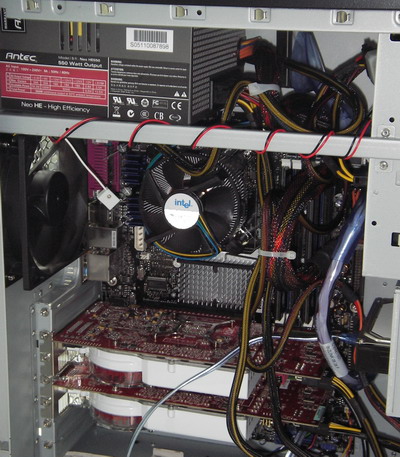 The 3D results are similarly impressive and although I don't have any exact comparisons and was only able to run the tests at fairly low resolutions, they bode very well. Intel had a couple of FX-60 systems set up as well, both overclocked to 2.8GHz and with a similar setup to the Core 2 Duo machines. For a rough comparison the Core 2 Duo system managed to produce 367fps in FarCry on the training level, whereas the FX-60 machine only mustered 250fps. As this was at 1,024 x 768 resolution it is likely that the gap will narrow at higher resolutions, but Intel has an amazing lead here.
A default 3DMark 06 score of 9709 is quite impressive as well, but not as good as 199fps in F.E.A.R. at 1,024x768 at optimal performance settings for the platform. The reason for the F.E.A.R. score being especially noteworthy is because this is a very CPU-limited game. Sure, Intel had fitted two very fast graphics cards in the machine as well, but the results are almost twice as fast as any other platform out there. Remember that this was on a fairly default setup without any tweaks that I could spot to make it go faster.
I'm sure many of our more hardened readers by now think that I'm an Intel fanboy and that I've swallowed the bait, hook, sink and line all in one go. Well, this is a preview and I can only go by what I've had a chance to actually play with, which was quite limited. However, I believe it is unlikely that Intel is trying to pull the wool over anyone's eyes - it would cause it no end of grief in the long run.
Sponsored: Minds Mastering Machines - Call for papers now open