Intel Core 2 Duo performance preview
A taste of things to come, but when?
This takes us on to Intel Advanced Digital Media Boost - and I thought long, silly technology names where reserved for Asian companies - which is just an improved version of SSE. What Intel has done is to allow a 128-bit SSE operastion to be executed in a single processor cycle, which means that SIMD operations that previously have taken two clock cycles now complete in half the time.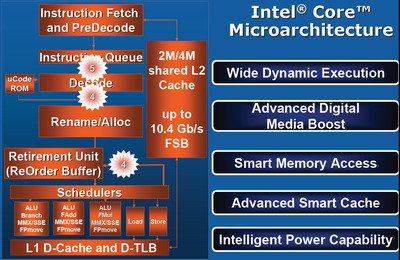 Many of Conroe's power saving features aren't really power saving as such, but rather related to the more efficient processor design, which means that more data can be done in less time. In turn, that equals less power usage. However, Intel has lowered the TDP to 65W on the desktop parts, which is nonetheless very impressive.
But enough marketing material. Let's start with the test systems that Intel had set up for us. The processor was clocked at 2.67GHz and it should be known as the E6700 when it hits retail. As you might already have guessed the machines had an Intel-branded motherboard and as the Core 2 Duo processors operate at a 1066MHz frontside bus, the motherboard of choice was the Intel D975XBX. This is a top-of-the-range model from Intel. We weren't permitted to change any BIOS settings.
Intel had also installed 1GB of Corsair DDR 2 memory which was clocked at 800MHz and set to run at 4-4-4-12 timings. Add to this a couple of ATI Radeon X1900XTs in a CrossFire setup and you're looking a decent machine. The graphics drivers where the Catalyst 6.3 beta release, as supposedly these are the only drivers that currently work with the Core 2 Duo.
You'll find that the various publications that attended the Intel briefing have run slightly different benchmarks, as there was a selection of applications to run. I tried to stick with benchmarks familiar to Reg Hardware readers, and this also offered some sort of comparison against the AMD Athlon 64 FX-62 I reviewed last month. Although the 3D benchmarks aren't comparable, at least PCMark 2005 and POV-Ray offer an idea of how much faster the Core 2 Duo is.