HP crosses out parallel trader
Rubbing out grey marketing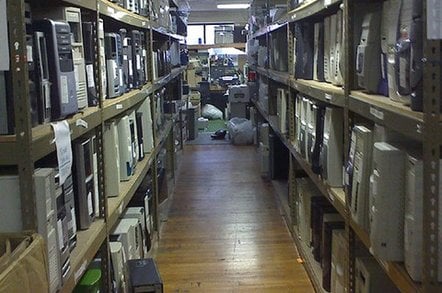 HP has wrapped up one of three lawsuits it has filed against channel firms in the last 18 months for "grey market" trading.
It also imposed more red tape on its official partners, requiring them to "track product serial numbers on all sales and delivery documentation" so it can tell easily if they have been selling grey goods when it seizes their books.
The vendor said this week it had reached a settlement with the Danish distributor Bluecom, which it had taken to "defend partners and customers".
HP refers to the parallel trading conducted by Bluecom as grey market "fraud".
However, it refused to comment any further about parallel trading, Bluecom or anything else for that matter.
That's a shame because it might have been able to explain what was different about the serial number tracking scheme it announced this week (in conjunction with the announcement that it had settled its lawsuit against Bluecom) and the one it announced in December (in conjunction with the announcement that it had raided Bluecom's offices).
When HP raided Bluecom it told trade magazine MicroScope that it had been the result of a serial number tracking system it had recently established.
In this week's statement, HP announced the launch of a serial number tracking programme. HP refused to elaborate as usual. All we know is from the prepared statement, which gives the impression that it will involve the imposition of more red tape on its channel "partners", if it is anything new at all. The programmed requires, it said, "distributors and resellers to track product serial numbers on sales and delivery documentation to make it easier to investigate abuses."
It is usual in parallel, or "grey" trading for customers to enjoy low prices and for resellers to enjoy free trade. But brand owners get less income because the parallel trade involves product moving from low price regions of the world, like South East Asia, to high price regions like Europe.
Vendors could earn another $40bn of revenue a year and $5bn more in profit if they could stamp grey market traders out entirely, according to the Alliance for Grey Market and Counterfeit Abatement (AGMA).
AGMA's analysis of parallel trading does not consider what benefits are gained by the local economy from the profits earned by European parallel brokers, as opposed to the US multinationals it supports, which reap higher profits when they can micromanage their sales channels.
According to the Parallel Traders Association, the only reason grey imports are disallowed in Europe is because the voting system has allowed the French and Spanish to block any move to allow them. The French do not want to see their perfume industry undercut by cheap imports from Asia. Yet the majority of EEA countries are apparently in favour of allowing the free movement of cheap imports.
The big break came for brand owners like HP in 2001, when the European Court of Justice ruled in favour of Levi Strauss & Co against Tesco. The supermarket chain had been selling cheap jeans it had imported from outside the EEA. ®
Sponsored: Minds Mastering Machines - Call for papers now open