3M Laptop Privacy anti-peek filter
A blow to glancing?
So does it work? Yes, it does. The glossy side of the filter appears to give a slightly tighter viewing space than the matte side, but not by much. Shuffle sideways and the screen quickly starts to darken to obscurity at its far extremity, with the whole thing going dark before your viewing angle is 45° from full-on.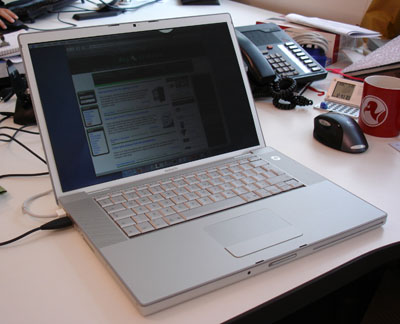 Going, going...
What the filter doesn't do is blank the display for anyone standing up behind you and looking down at the display. It does make it harder for them to read text, but it won't stop them doing so. 3M's "micro-louvre" technology - small art gallery, anyone? - clearly only makes a difference on the horizontal axis.
To give 3M it's due, that's all it claims the filter does. It's pitching them as a way to guard against unwanted sideways glances from folk sitting next to you, whether you're in an aircraft or on the train. The company presumably reckons if anyone's going to stand where they can see what's on your screen, you'll be all too aware of them.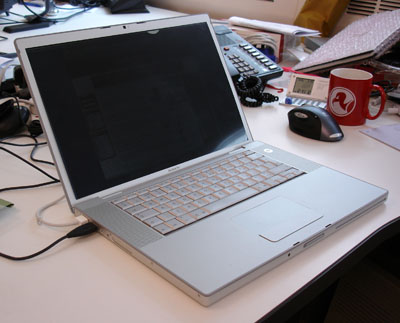 ...gone
There's one added benefit: 3M's filters are a darn sight easier to clean than a notebook's display and can withstand more vigorous dusting. Something to bear in mind, this, if you're one of those users whose screen attracts pointing fingers.
Verdict
3M calls its filters Laptop Privacy products, and that's exactly what they provide. They'll certainly prevent casual glances at your screen exposing confidential information, though they don't cover vertical viewing angles.
They're also pricey. That said, what price you put on your data only you can appreciate. You could simply refrain from reading confidential information when you're in a public place, which costs you nothing. But 50 quid might seem a small consideration against the cost to you and your company if what's on your screen is made public. ®
Sponsored: Minds Mastering Machines - Call for papers now open

3M Laptop Privacy anti-peek filter
Screen your screen from sneaky peeks...
Price:
From £40-70/$50-90 RRP