Danger Hiptop 3 pic pops up on web
T-Mobile Sidekick III ready for primetime?
No one knows the spec - well, anyone who does isn't saying - but pictures of Danger's eagerly anticipated Hiptop 3, more likely to ship as the T-Mobile Sidekick III, are slowly starting to appear.
The latest matches the much smaller shot posted earlier this month, which in turn looked like a blurry phone camera-grabbed image that made it onto the web in February. The new shot comes courtesy of website hiptop3.com: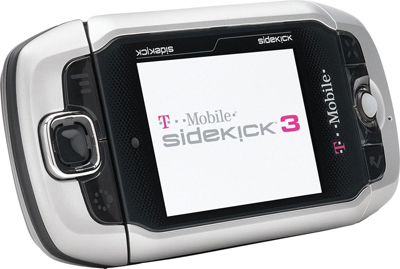 Here's the earlier piccy, for comparison:
The new box appears a much slicker device than its predecessor, which finally arrived in the UK in November 2005 after debuting in the US in August 2004. You can read our review here.
Called a "BlackBerry for consumers", the Hiptop/Sidekick provides a highly integrated suite of messaging tools in a handset that sports a spring-loaded flip out display and a QWERTY keyboard. The current unit has 32MB of RAM, 16MB of ROM and a 640 x 480 camera. It's a GPRS-only device - no EDGE or 3G - so it's a plum candidate for an upgrade. ®
Sponsored: Fast data protection ROI?