Eastbourne finally gets a Sexual Health Action Group
Not before time
Let's face it - Eastbourne is not noted for its lively sex scene, unless the blue-rinse paradise has a hitherto unseen dark side inhabited by septuagenarian domininatrix driving gimp-suited retired wing commanders up and down the seafront at the point of a whip.
That, however, may be about to change with the formation of the town's very own NHS Sexual Health Action Group, whose name suggests it will be uninhibited in its efforts to get Eastbourne's population out of the bingo halls and back between the sheets: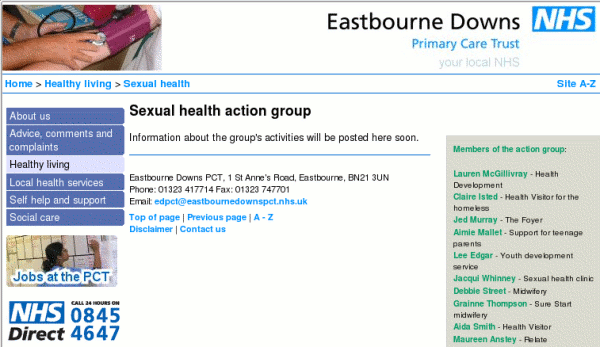 There is, as yet, no indication as to how the Sexual Health Action Group intends to put the sex back into Sussex, but we look forward to Eastbourne's imminent conversion into the new Ayia Napa, with alcopop-crazed, beach-cruising grey panthers casting aside their zimmers and going at it like jackrabbits while baying crowds of semi-naked pensioners exhort them to greater heights of public orgiastic excess. ®
Sponsored: RAID: End of an era?