Home Office to cull Criminal Record Bureau agents
Outsourcing blame after ID snafus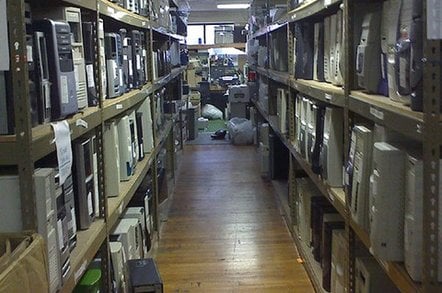 The Home Office has fingered 3,000 organisations for expulsion from the list of groups or firms authorised to query the Criminal Records Bureau (CRB) database of people with past convictions.
The move follows concerns that thousands of people have been incorrectly identified as criminals when prospective employers or other organisations queried the CRB.
The Home Office's public stance on the matter has been "mistakes happen".
However, it appears to have quietly outsourced the blame to those organisations, or agents, who are authorised to carry out record checks through the CRB.
This first, routine purge will be the first of many scheduled for the next 18 months. It is warranted under the new regulations added to the Police Act (1997), in April.
The Home Office said it had written to 3,000 agents that had made less than 10 queries of the CRB database. It hopes to have them de-registered by the summer. All those who have made less than 100 CRB queries are also set for expulsion. These are thought to number about 10,000 of a total of 13,500.
A Home Office source said the routine purge was designed to get rid of problem agents, but officially the department will not directly accuse registered firms of carelessness or abuse of the system.
"In April, we commenced our programme to reduce the size of the registered body network because we were aware that some registered bodies were not fully complying with our code of practice and not carrying out identity checks to the standard we expect," the source said.
"Organisations that persistently fail to comply with these new regulations will be considered for deregistration, removing their ability to comply with CRB checks."
The Criminal Records Bureau reported in its Strategic Plan this week that one of its most serious risks was losing the trust and support of its agents - those private, public and charitable bodies authorised to perform police checks on its database.
The bureau's public explanation for the April regulations and the ongoing cull was that reducing the list would make the system more manageable and reduce the likelihood of mistakes.
The National Association for the Care and Resettlement of Offenders received 15,000 calls to its helpline about CRB disclosures last year. The Home Office said complaints it had upheld against its system of CRB checks represented only 0.025 per cent of nearly 9m queries of its data. Yet that still represents over 2,000 people being fingered for crimes they did not commit.
That also disregards those people whose minor non-sex related convictions spent long ago, still prevent them from working with children. Or those whose criminal records were examined and disseminated for no good reason.
The Home Office says 22 per cent of agents have made 89 per cent of CRB queries. It has not revealed what ratio of agents have been responsible for the mistakes that made victims of so many British citizens.
Powerful charitable organisations are included among the biggest users of the CRB system. Their support is crucial to it ever becoming a success. Having outsourced its checks, the Home Office cannot quite get away with outsourcing the blame. ®
Sponsored: Minds Mastering Machines - Call for papers now open