Samsung to sell PCs with Flash drives next month
HDD-less
Samsung will early next month ship the first notebook PC and the first ultra-mobile PC fitted with 32GB of solid-state NAND Flash storage instead of a regular hard disk drive, the company announced today.
The two machines - respectively, a version of Samsung's Q30 12.1in notebook and its Q1 UMPC - are both fitted with the 32GB SSD (Solid-state Disk) the company unveiled in March this year. Both PCs will go on sale in South Korea for KRW3.5m ($3,700) and KRW2.3m ($2,430), respectively.
Beyond the SSD, the two machines' specifications match those of their respective HDD-equipped versions. But the use of Flash for storage means they're not only slightly lighter than the HDD models, but also quieter and quicker to start up, Samsung said.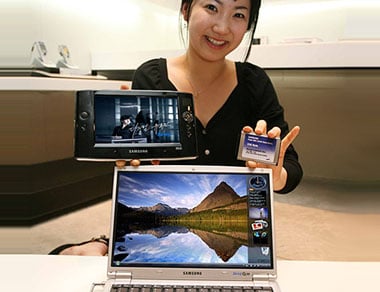 With a 53MBps read speed and a 28MBps write rate, the SSD allows Windows XP to boot up in half or even a quarter of the time it would take on a regular system, Samsung claimed. Both devices are completely silent, it said, compared to HDD-based models, which generate around 30dB of noise.
The SSD is a 2.5in form-factor product that operates at 5V and connects across a 66MHz Ultra DMA parallel ATA bus. Samsung said the unit consumes just five per cent of the energy it takes to run a hard drive.
The downside, of course, is the cost, but in compensation Samsung is building digital TV receivers into each machine to "bring extra enjoyment to users during this summer's World Cup competition", it said.
Samsung last week demo'd its latest hybrid drive - a unit that combines a Flash cache with a regular HDD. While the hybrid will offer higher storage capacities than the SSD, and at a lower cost, it requires Windows Vista's ReadyDrive feature to operate so it's unlikely to make it into commercially available PCs until early next year. ®
Sponsored: Minds Mastering Machines - Call for papers now open