Nvidia nForce 500 Socket AM2 chipset series
A new AMD Socket, a new Nvidia chipset...
But the most interesting technologies are found in the nForce 590 chipset, and Nvidia has dubbed them LinkBoost and SLI Memory. LinkBoost is based on the idea that since Nvidia makes both chipsets and graphics cards, it has full control of the hardware. So if you use Nvidia graphics cards in an nForce 590 board you'll get an extra performance boost of up to 25 per cent, the company claims. This is simply done by overclocking the PCI Express and HyperTransport bus, but to a predetermined limit.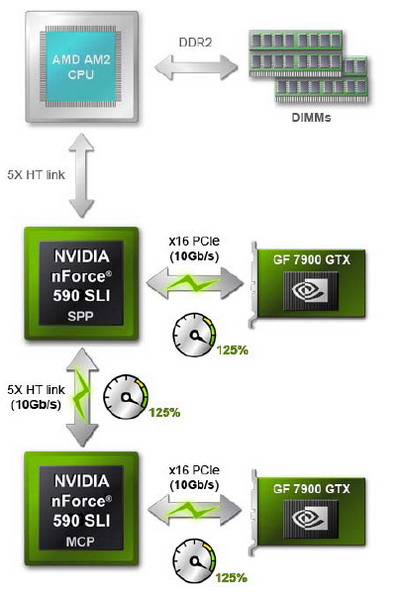 SLI Memory, which is known as Enhanced Performance Profiles (EPP) to the memory manufacturers, does the same thing as LinkBoost, this time for memory clocking. If you use EPP memory with an nForce 590 board the DIMMs will be automatically overclocked to a preset in the SPD, a small controller which is fitted to all DDR and DDR 2 memory modules. However, you do have to enable this manually, in the BIOS. There are different ways to set the EPP up and this is determined by the memory manufacturer.
Finally, the nForce 590 chipset features something called Max Overclocking, essentially a heap of tweakable BIOS settings, although this is down to the board manufacturers to incorporate. The good news for the enthusiast market is that Foxconn, for one, has followed the Nvidia reference design and should have a very tweakable motherboard available shortly.
I only had access to the Asus M2N32-SLI Deluxe and sadly none of the EPP memory modules. The test results can be found in the AMD AM2 Athlon 64 FX-62 review as that processor was used with the Asus board. They're reproduced on the next few pages for your convenience.
Unfortunately, Nvidia wasn't able to supply two cards for SLI testing, but rest assured that we'll be taking a closer look at the new Nvidia chipsets with accompanying technology as soon as it's more widely available.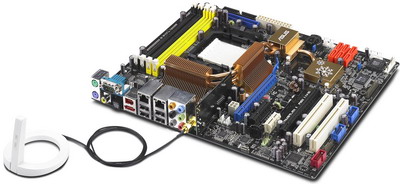 For now, the good news is that the platform seems to be stable and that there should be a wide range of boards available from the usual motherboard manufacturers. Pricing is of course an issue, but that is also down to the individual board makers. Overall, Nvidia has done an impressive job with its latest generation of chipsets and have added just about every feature you could possibly want, although once again you need to buy the most expensive model to get all of the features. ®