Lean, mean Intel hands out race cars to the press
Cutting costs one gewgaw at a time
Intel claims to be all about fat trimming these days. So why the heck is it sending race cars to reporters?
Hacks around the globe this week received model race cars from Intel's new public relations agency Burson-Marsteller. BM - as the company bravely refers to itself - won the lucrative Intel contract, becoming the first outside agency to handle US PR business for the chip maker that we can remember. Up until the shift, Intel had been one of the few giants to do just about all of its US public relations inhouse.
Now reporters are receiving trinkets in the mail from an agency. The race cars are meant to celebrate Intel's launch today of new server processors. Complementing the cars and chips, Intel - or rather we imagine BM - has put up the Start Your Engines website.
The website isn't a horrible idea other than it implying Intel has not had its engines turned on until today. PR agencies tend to avoid such revealing admissions, but, in this case, Intel/BM had no choice. Everyone knows Intel has fallen behind AMD on the server processor front, and the new chips from Intel are meant to solve that problem.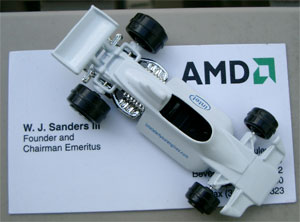 Intel's BM moment with business card shown for perspective
Of course, the benchmark on the Intel site, which shows the new Dempsey processor being a real dog when compared to the still yet to be released Woodcrest chip, doesn't look all that fantastic.
These types of marketing efforts - the cars and the questionable website - don't seem to fit in well with Intel's current pledge to eliminate the unnecessary. CEO Paul Otellini last month vowed to reorganize the company in the hopes of improving Intel's flagging financial and product performance. Intel will become "lean, more agile and more efficient" and "no stone will remain unturned or unlooked at", Otellini said.
And here we have BM billing Intel god knows how much to send out toy cars to reporters. (Everyone knows you're supposed to send food. Send food!)
A toy car, of course, is small fry in the big scheme of things. But, when we first caught wind of Intel's agency idea, we thought it a bad move, and this confirms our suspicions. Intel's PR team was famous for its lean, mean operations and smart staff. It was a model for all other large companies.
We can't see how paying for toy cars fits into Intel's past or future plans. The inhouse team certainly never bothered with such baubles. ®
Sponsored: Minds Mastering Machines - Call for papers now open