HP renews Xeon server charge
ProLiants armed with Intel's latest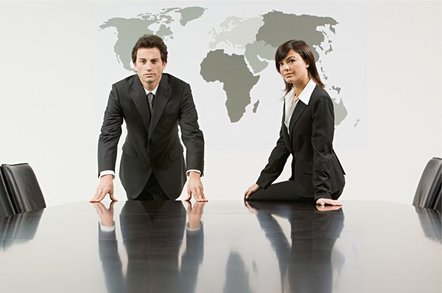 HP has welcomed Intel's new dual-core server chips with open arms. The company today refreshed the Xeon portion of its ProLiant server line by adding the latest processors from Intel and a host of other advances that give customers more storage and management options.
The ProLiant DL140, DL360, DL380, ML150, ML350, ML370 and BL20p servers will all ship with Intel's latest and greatest Xeons by late June. Intel today announced its dual-core Xeon DP 5000 series of chips - code-named Dempsey - and is expected to roll out the DP 5100 series - Woodcrest - chips next month.
HP makes a ton of money off the ProLiant kit and is doing more than just slotting new chips into the systems. The hardware maker has designed new systems that will accommodate the rather unimpressive Dempsey chip, the much more impressive Woodcrest product and future iterations of Intel's multi-core lineup.
This gives HP's Xeon customers a slight edge over the Opteron camp in the near-term from a "systems" perspective.
For example, Xeon customers will now be able to tap HP's fresh Smart Array RAID controllers, small SAS drives and improved "lights-out" management.
On the storage front, customers can now, for example, pack a DL360 with six of the smaller SAS drives as opposed to two drives today. In addition, the DL380 will hold eight drives, up from six.
"That adds a big increase in the RAID capabilities of the systems by using the smaller drives," John Gromala, a product marketing director at HP, told us.
It should be noted, however, that some Opteron-based server models from HP are available with SAS drives today.
The servers will pack a ton more memory as well. The DL360, for example, will go up to 32GB of memory support from 12GB, while an ML370 will hold up to 64GB of memory.
The new ProLiant boxes will also ship with HP's Integrated Lights-Out (iLO) 2 management processor. Customers can tap into the chip to manage both ProLiant and blade servers from a web browser. The chip will let customers meter the power usage of their servers down to a component level as well.
HP additionally pushed the ProLiant Essentials Server Migration Pack software as a tool for moving OS images, applications and data from old servers to the new systems with "a single click of a button."
HP will not outfit its Opteron servers with the SAS support or new iLO 2 chip until it does a full revamp of that part of its server line.
Overall, HP expects the new ProLiant systems to perform much better while consuming less power than older Xeon-based gear. That said, customers will still pick up plenty of Opteron-based systems, according to Gromala.
"We see customers as having a preference of one chip vendor versus another," he said. "By having a broad product line, we can serve both sets of customers."
Gromala also took a moment to comment on Dell's recent decision to ship an Opteron-based four-socket box.
"That's not surprising given our success in the four-way market," he said.
HP has led the four-way market for 38 quarters, according to Gramala, and he imagines a scenario where "Dell and IBM will trade positions as the second place vendor over a long period of time." ®
Sponsored: Minds Mastering Machines - Call for papers now open