New space telescope sends back test shots
The universe in infrared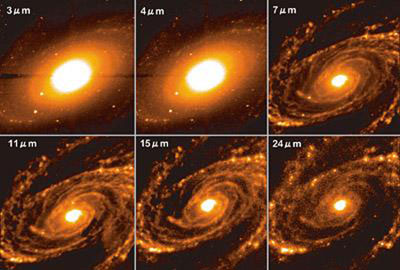 AKARI, the Japanese infrared space telescope, has beamed back its first images. The image series pictured shows different wavelengths of the infrared spectrum from galaxy M81, a spiral in the constellation Ursa Major.
The telescope launched on 21 February under the moniker ASTRO-F. Astronomers have been calibrating and tweaking instruments in preparation for full-scale operations of the renamed satellite.
The European Space Agency is collaborating on the JAXA-led project. Spanish scientist Pedro García-Lario said: "These beautiful views already show how, thanks to the better sensitivity and improved spatial resolution of AKARI, we will be able to discover and study fainter sources and more distant objects which escaped detection by the previous infrared sky-surveyor.
"With the help of the new infrared maps of the whole sky provided by AKARI we will be able to resolve for the first time heavily obscured sources in crowded stellar fields like the centre of our Galaxy." ®
Sponsored: Minds Mastering Machines - Call for papers now open