First Big Brother golden ticket surfaces on eBay
KitKatastic offer pulled at £10m
Updated It was only a matter of time, and here it is: the first Big Brother golden ticket has been duly extracted from a KitKat bar and immediately placed for sale on eBay: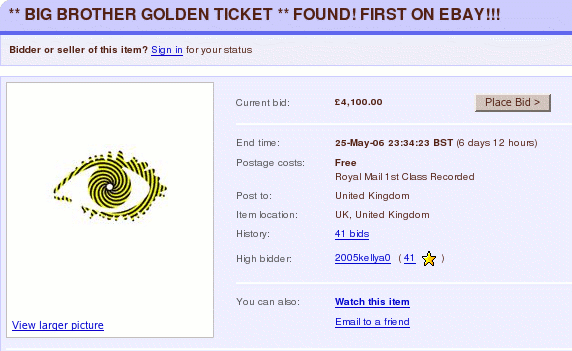 BIG BROTHER GOLDEN TICKET
FOUND IN A KITKAT BAR BEFORE ABOUT 10 MINUTES AGO!!!
FIRST ON EBAY!!!!!!!
I DONT WANT TO GO IN THE BIG BROTHER HOUSE SO I AM OFFERING THIS PRICELESS OPPURTUNITY TO OTHER PEOPLE!
---
Since the biding already stands at £4k+, we sincerely hope this is the real thing, unlike the recent auction where one chancer was offering buyers the chance to get their hands on a golden ticket, in the entirely unlikely event that he came across one while gorging himself on chocolate.
There are 100 golden tickets in circulation, one of which will earn the holder the right to make a special guest appearence in the Big Brother house. TV officials had already expressed concern that some of them would end up on eBay, and they were right. They reckoned an example might fetch £10,000, so let's see how soon a fool and his (large amount of) money can be parted.
Potential bidders should note that only one golden ticket holder will end up in the BB human zoo. He or she will be selected by a rigorous screening process including psychological profiling to ascertain whether or not they are sufficiently mentally retarded to take part in Big Brother. Big tits and/or spam javelin* and a penchant for having sex while drunk on live TV are also likely prerequisites. ®
Update
As expected, the auction was pulled at around 2pm UK local - whether by eBay or the vendor we know not. At that time, the bidding had reached a very silly £10m. You lot ought to be ashamed of yourselves: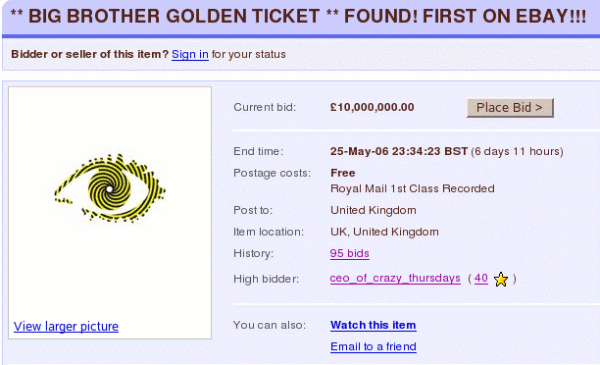 Bootnote
*Channel 4 execs can only hope that there's one neurotic, exhibitionist pre-op ladyboy out there with a taste for KitKat and three-in-a-bed. Now that's what we call entertainment.
Thanks to Mike Goulding for monitoring the eBay BB golden ticket market.
Sponsored: Minds Mastering Machines - Call for papers now open