The RIAA's radio lawsuit - and your iPod
The next big battleground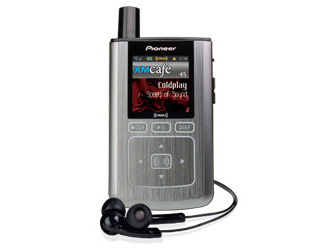 How will the other consumer electronics manufacturers react?
The pace setter is obviously Apple. Apple doesn't really care what fills its iPods, so long as there's plenty of content around to keep them filled. It's an open secret in the music business that the company has its eyes on integrating digital radio broadcasts into iTunes, folding them seamlessly into a Music Store that already time shifts terrestrial radio, in the shape of podcasts.
Apple has simply been waiting for the price of receivers to fall, and watching to see who takes the bullet first. Now we know that's XM.
But the Inno and the iPod have more similarities than might first be apparent - and more than either manufacturer would care to admit. Depending on how you look at it, it's either dumbed down or "optimized" to be a viewer and player. If you want to create a playlist, you need to attach it to a smart host, such as a PC.
And on closer examination this "Mothership" is also hindered in other ways. As the manual plainly states in a footnote:
*XM content cannot be exported from the inno digital audio player. If you wish to own a complete, high-fidelity version of digital content on demand, you should purchase content from XM+Napster. This may allow you to store the content on multiple devices depending upon the digital rights management of such content.
Hardly the threat to civilization the RIAA portrays, then. If the RIAA succeeds in limiting the capabilities of the Inno and devices like it, that suits Apple just fine. As executives have explained many times, the iTunes Music Store exists to fuel demand for the iPod, and demand for the iPod fuels demand for Apple computers. You don't hear so much about the latter now that half of Apple's revenues are earned from the music player, but the computer business is the more lucrative in terms of revenue and margins, and it should be the more enduring now the painful transitions to Mac OS X and Intel are almost complete.
The distinction between stream and file no longer makes sense, and a blanket licensing regime - of the kind that allowed radio to flourish in the first place - is the only sensible option. However, thanks to the selfish collusion of the RIAA and the market leader Apple, we're likely to see several years of crippled technology instead.
Don't touch that dial! ®