Schwartz spells out Sun's vision thing
'Services' is the hardest word to say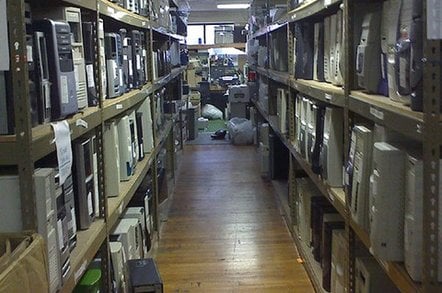 JavaOne Jonathan Schwartz has come closer to outlining his strategy three weeks after taking over from Scott McNealy as Sun Microsystems' chief executive.
Having shaken up Sun's systems and storage management earlier this week, Schwartz on Wednesday pointed to a vision - of sorts - around partnerships, innovation in areas including secure storage, and greater support for open source on Sun's hardware.
Missing, though, was a clear correlation between that vision and how Sun will reverse financial losses, at least in the short term. Instead, Schwartz, speaking at the Gartner Symposium IT/expo, placed his faith in Sun's ability to "intercept demand" and convert crowds of Java programmers into revenue generators.
Schwartz indicated Sun would achieve this through support and services, but rather than articulate this clearly, he used his familiar style of illustrating his points through anecdotes and "what if" scenarios. These only drew harder and harder questions.
Under an intense press and analyst grilling in San Francisco, California, Schwartz said he'd hit the "reset button" with Microsoft, Hewlett Packard and Intel by making phone calls to the chief executives of all three companies.
"We want to make sure we are not 'everything from Sun on Sun'", he said, adding that 70 per cent of the five million Solaris 10 downloads during the last five months are on AMD and Intel, not SPARC.
He committed Sun to support the Ubuntu GNU/Linux distribution on Sun's T1 Niagara hardware "within a week or so," effectively endorsing the work of Linux enthusiasts already running their preferred operating system on Sun hardware.
Schwartz renewed Sun's commitment to a $2bn annual R&D budget. He described Sun's work combining storage, identity management, the Solaris 10 ZFS file system, and encryption on the four-core Opteron system codenamed Thumper a "lead indicator" of strategy.
"We need to build the next generation of storage," Schwartz said. "Thumper has aligned system innovation from Sun - it aligns open source, file management and provisioning."
Cutting R&D "to the bone" would make Sun profitable and "relevant" to the market, but relevant for "just 15 minutes" while hurting projects like Thumper, he said.
"I have to be concerned with the long-term value of the business we are building. The best route forward according to some analysts would be 'let's cut R&D to the bone.' I'm deeply focused on financial performance," Schwartz said.
Asked, by Gartner, the timeless question of how Sun planned to make money from Java, when none of its Java products are market leaders, Schwartz replied enigmatically "the day you adopt Java, Sun is relevant to you." He also called developers a "leading indicator" of Sun's relationship with customers, as developers are early adopters of technology that they don't pay for but that people higher up in a company do pay for, when they purchase services and support from Sun.
That, according to Schwartz, means revenue becomes a lagging indicator of the adoption of Sun's developer platforms. In other words, it's OK to lose money up front, because revenue will flow further down the line.
"The next generation of developers will define the economics of your datacenter," Schwartz said.
Problem there is, Sun needs to get developers using its software instead of products from IBM, BEA Systems of JBoss. That's a goal Schwartz indicated Sun could achieve by giving end users "systems innovation, which is all the components [operating system, middleware, provisioning and hardware] working together so IT shops don't have to make it work together."
For all of this talk of removing the headache from integration, Schwartz ruled out at least one potential off-the-shelf Sun service: certification and testing of open source software components, offered by Red Hat, SpikeSource and SourceLabs.
Schwartz called it "unlikely" that Sun would provide testing and certification adding: "We will qualify and certify those customers as we identify them."®
Sponsored: Minds Mastering Machines - Call for papers now open