Intel will carve off flash and communications units - analysts
AMD here to stay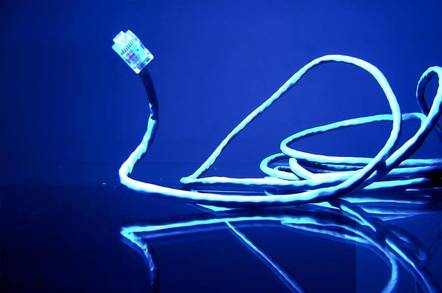 Top chip analysts expect Intel to cleave off its flash memory and communications businesses in the coming months as the company tries to cut costs and compete better against AMD. Despite these moves, however, Intel will never regain the astonishing market dominance it once enjoyed.
Intel CEO Paul Otellini warned last month that he will create a "leaner, more agile and more efficient" company by looking for underperforming business units to restructure. A group of top chip pundits believe the units in question will be Intel's flash memory group and its teams working on chips made for wireless and portable devices. These actions will improve Intel's financial structure but do little in the long-term to replenish market share lost to AMD over the past two years.
"Intel clearly is going to be in comeback mode," said Mark Edelstone, a managing director at Morgan Stanley. "If they do some aggressive restructuring, which I expect them to do, it will help a lot."
Later, Edelstone added that "Intel is a great company" but "I don't think its market share can ever go back to where it was."
Such sentiments were echoed by three other panelists at the Churchill Club's annual Semiconductor Forecast event held last night here in Silicon Valley. At this event, some of the top chip analysts give their broad views on where the industry will head over the next year and even toss out a few stock picks, which we'll bring you shortly.
Rounding out the Intel issue first, the panelists slaughtered the chip giant for failing to produce chips that could compete against AMD's Opteron and Athlon64 products.
"I don't think I have ever seen this kind of competitive dislocation," said Joe Osha, senior director at Merrill Lynch, adding that "Intel really showed up with a knife to a gun fight in servers and desktops."
All of the analysts agreed that AMD will come close to hitting its target of taking 30 per cent of the processor market in terms of units and revenue. That's up from historical levels ranging between 90-10 and 80-20 in favor of Intel.
"I think the market share will get to 30 per cent and might go beyond that," said Dan Niles, the CEO of Neuberger Berman Technology Management.
They also agreed the the flash and communications units were the most likely to go for Intel.
On the plus side for Intel, a couple of the analysts see it as having the better stock in the coming months than an "over-priced" AMD.
"Intel right now is priced like a company that will never get anything right ever again," Osha said. "I don't see how the stock doesn't outperform AMD."
Niles added, "If you believe margins have bottomed out, then you have to own the stock."