Symantec to cleanse remote offices of tape demons
Get pure, get PureDisk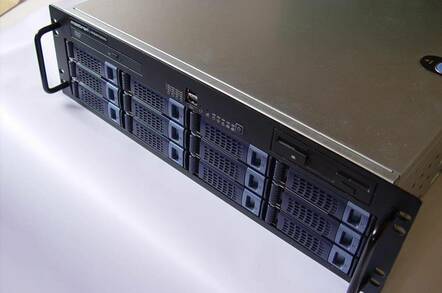 Symantec has extended the reach of its popular NetBackup line with a new product aimed at helping remote office workers perform disk-based backups.
Veritas NetBackup 6.0 PureDisk Remote Office Edition aims to solve two main problems - remote offices don't like handling tape backups and aren't terribly good at the process. Symantec figures that moving to disk-based backup can make life easier on the branch office administrators, especially if it can deliver an easy-to-use software package for management. In addition, the PureDisk product can eliminate the need for a remote office to handle backup management altogether by making it possible for the home office to control all backups from one place.
"We are seeing a large number of customers who are pretty dissatisfied with what is available," said Mike Adams, a NetBackup marketing man at Symantec.
Stories about missing and stolen tapes have become common. And, to sell its product, Symantec is playing up some of the security fears surrounding these losses.
In addition, Symantec rightly notes that remote offices don't have the best track records when it comes to performing tape backups on schedule or keeping tabs on the tapes. Many smaller offices foist tape backup tasks on already overwhelmed administrators.
So why bother with tape at all, particularly with the price of disk systems always falling?
The PureDisk product is a retooled version of software made by Data Center Technologies (DCT) - a small firm that Symantec acquired in 2005. The software includes tools for encrypting data the second it hits a remote office machine and while that data is making its way to the central office. In addition, the PureDisk package will only grab files that have changed instead of performing complete backups all the time.
Main office administrators can create backup policies and then send them out to PureDisk machines or let local administrators handle the management.
Smaller offices will only need to install a PureDisk agent on a local client, while larger offices will want to have systems feed back into a centralized storage box. In both cases, the remote office machines will send data back to the main office's storage box and then on to a disaster recovery site, if need be.
While standalone today, PureDisk will make its way into the core NetBackup product over time. Symantec is selling PureDisk on a per terabyte model that spans across all of your remote office sites. It will only charge for data that has actually been stored on a centralized box. So, you can store 250GB at one site and 750GB at another and just pay for the 1TB. Each TB will cost $16,000.
There's more information on the product available here. ®
Sponsored: Learn how to transform your data into a strategic asset for your business by using the cloud to accelerate innovation with NetApp