Alcatel, Lucent confirm 'merger of equals' talks
Do you take this networking giant to be...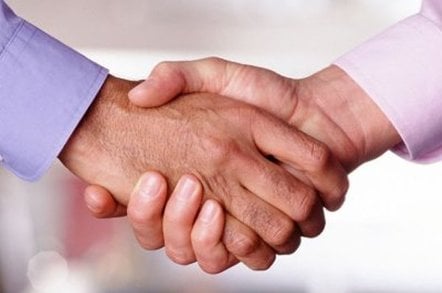 Alcatel and Lucent could be about to tie the knot after the telecoms equipment makers confirmed they are mulling a merger.
If successful the deal could be worth $33bn with the enlarged group generating revenues of $22bn.
In a joint statement issued yesterday the firms said: "We can confirm that Lucent and Alcatel are engaged in discussions about a potential merger of equals that is intended to be priced at market.
"There can be no assurances that any agreement will be reached or that a transaction will be consummated. We will have no further comment until an agreement is reached or the discussions are terminated."
One phrase that stands out in this statement is the bit about a "potential merger of equals". Why? Well, in 2001 Alcatel and Lucent held advanced talks that could have led to a $40bn marriage. Snag is, the talks came to a halt in part due to Lucent's concern that the deal would be perceived as a take-over by France's Alcatel rather than a merger.
According to the statement, it seems the pair have at least made it past that impediment. ®
Sponsored: Minds Mastering Machines - Call for papers now open