Panicked analyst ravaged by AMD chip pricing fears
'Raging Buy' flips to 'Apocalypse Near'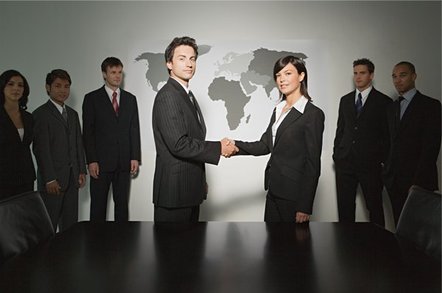 AMD's recent share price slide accelerated Monday after a pair of financial analysts cut their ratings on the chip maker.
AMD dropped $2.63 or more than 7 per cent to $34.00. The significant selloff appeared to be driven by downgrades from Punk, Ziegel & Co. and ThinkEquity Partners. Both analysts cited concerns that Intel would lower its prices and put more competitive pressure on AMD as a way of countering AMD's recent market share gains.
In March, AMD's stock already looked a bit wounded after falling from a 52-week high of $42 per share sustained throughout late January and early February. Shares of AMD have been moving lower all month, although today's drop was the most significant one-day slip.
Some regrouping around AMD shares is only natural given that the stock has surged up from about $18 a share over the past year. The Wall Street geniuses were slow to wrap their heads around AMD's performance advantage over Intel, but, once they did, the "BUY, BUY, RAGING BUY" ratings started to arrive in quantity. Investors followed the advice.
Intel, however, countered AMD at least from a marketing standpoint during last week's Intel Developer Forum. Executives at the chip beasty informed customers, press and analysts that AMD's performance edge would come to an end later this year with the release of fresh desktop, server and notebook chips using Intel's new "Core" architecture that provides better overall performance and better performance per watt.
A number of analysts were impressed with Intel's pitch. And now we see a couple members of the financial community rewarding Intel for catching up to AMD on paper.
"We see increased risk in AMD revenues over the next few months as seasonally low demand combines with Intel's inventory buildup at the low-end of the desktop market," wrote Punk, Ziegel & Co.
More curious, however, was the downgrade from ThinkEquity Partners analyst Eric Ross. He pulled out the cleaver and slashed his per share price target on AMD from $50 down to $30! That's an incredible change of heart - one that would resemble a religious experience more than a new set of models.
You have to wonder how this Wall Street version of Bipolar disorder is meant to inspire confidence in clients.
Punk, Ziegel & Co. went with a more moderate price target reduction, issuing a forecast of $45 per share down from $48. ®
Sponsored: Minds Mastering Machines - Call for papers now open