HP and Oracle committed to Itanic
CEO love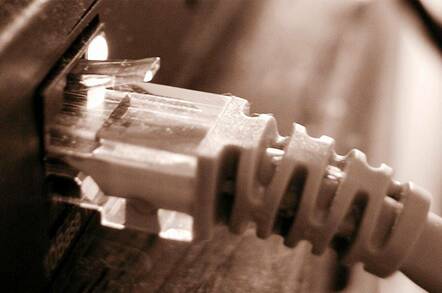 Intel pulled in top executives from Hewlett Packard and Oracle on Wednesday to pledge undying commitment to Itanic despite having "screwed" HP over use of its newest version of the chip in the latest Integrity servers.
The chip giant's president and chief executive Paul Otellini rallied HP's Mark Hurd and Oracle's Larry Ellison, the latter via satellite from Japan, to squeeze out pledges of money and love for Itanic via a web cast.
HP CEO and president Hurd promised his company will spend $5bn during the next five years on R&D, software, hardware and services for his company's Itanic-based Integrity family of servers.
"I've heard [our commitment to Integrity] talked about a lot by some of our competition. HP is committed to invest $1bn per year over the next five years," Hurd said.
Hurd got his game face on as his company prepared to ship a fresh batch of Integrity servers running a new HP chipset based on the current Itanic chip - Madison - instead of the new, dual-core Montecito Itanic, which is running late.
Faced with delay, Hurd stressed the value-added features around Integrity and its place in the remotely managed, automated "lights-out" datacenter of the future, instead of mainframe-like features combined with more than double improvements in performance and power efficiency.
Hurd called HP Integrity one of the "key building blocks" for this mythical datacenter along with systems integration, software and services. "There is no better organization on the planet for architecting, implementing, managing and servicing our customers," Hurd said of HP's services.
As Hurd valiantly took one for the Intel Itanic alliance, The Reg quoted one HP insider earlier this week who said bluntly "Intel screwed us" by delaying Montecito.
Over to Larry, who called it in.
"Oracle has no more important partners than HP and Intel. The Oracle database depends on more Intel-based servers than any other platforms in the world. Itanium is an extremely important technology platform... there is no more important partner for platform than Integrity and Itanic," Ellison said.
That will make interesting reading for Sun Microsystems who counts Oracle as a high-end systems partner and who in January announced joint server and database bundles using Sun's UltraSPARC to undercut HP. Itanic is, of course, positioned by Intel as an alternative to RISC architectures like UltraSPARC.
Cementing its commitment, Oracle announced its Database, Fusion Middleware, Enterprise Manager and E-Business Suite would run on HP's Integrity servers with HP-UX 11i.
That left Otellini and Hurd to convince skeptics Itanic is set for take off and that companies who buy Itanic-based servers won't be left stranded by a backtracking Intel or its partners. Otellini committed to a roadmap consisting of four generations of Itanium by 2010 with Montecito "on track for mid-year launch."
"We are investing more money [in Itanium] in 2006 than 2007. There is a $28bn RISC mainframe replacement market that's available to us - larger than the market for standard, higher volume servers addressed by Xeon," Otellini said. Hurd told potential customers and industry observers: "I want you to sleep well at night knowing you have tremendous energy and investment behind this."
What? You need more. There's the fact 70 per cent of the Fortune 100 will be running mission critical applications on Itanium servers by the end of 2006, up from half now, according to Otellini. "You will see customer adoption much faster than people have expected," Intel's chief executive said.
Still not convinced? Well, there are those IDC numbers, Otellini said.®
Sponsored: Learn how to transform your data into a strategic asset for your business by using the cloud to accelerate innovation with NetApp