x86 boxes carry server market in 2005
HP and IBM cheer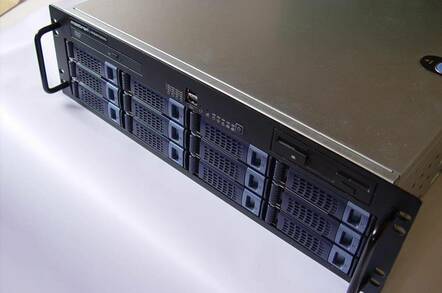 Surprise, surprise. Shipments of x86 servers rose during 2005, while big-iron sales dropped.
That's the word from Gartner and IDC, who both released their most recent server data this week. We're going to stick with the Gartner data for the most part not because the firm has proven itself as more accurate than IDC but because it's just too damn hard to take IDC seriously so soon after its latest Itanium server sales forecast.
In 2005, total server shipments increased 13 per cent, according to Gartner. Revenue didn't keep pace with shipments, rising just 4.5 per cent. All told, 7.6m servers were shipped and brought in $51.7bn.
HP still ships more kit than any other vendor with Dell, IBM, Sun Microsystems and Fujitsu (Siemens) following. The big three - HP, IBM and Dell - take 28, 23 and 16 per cent of the market, respectively. Meanwhile, Sun accounts for 4.5 per cent and Fujitsu accounts for 3.5 per cent.
If you're looking at revenue, then IBM remains king. IBM pulled in $16.6bn in 2005, while HP followed with $14.6bn. IBM's mainframe sales and growing Unix business explain the lead over HP, which relies more on ProLiant sales. Dell moved well past Sun for the third spot with $5.4bn in revenue, while Sun brought in $4.9bn. Fujitsu took $2.7bn.
During the year, HP and Dell enjoyed the strongest market share gains, while Sun - once again - popped up as the only major vendor to see its revenue slide. Total shipments of RISC/Itanic boxes dropped 5 per cent year-over-year, while revenue was flat. Meanwhile, x86 server shipments soared 14 per cent and enjoyed a 11 per cent rise in revenue.
Looking just at the fourth quarter, server shipments rose 16 per cent to 2.1m units, according to Gartner. Revenue rose 3.5 per cent to $14.7bn.
Acknowledging that IDC exists, we show that the firm had fourth quarter server sales come in flat at $14.5bn, while shipments rose 11 per cent.
"The volume server market continues to evolve as richer server configurations driven by both scale-out cluster implementations and scale-up server virtualization initiatives continue to drive increased customer spending," said Matthew Eastwood, an analyst at IDC. "However, even in the volume segment, the quarterly unit shipment growth of 11.5 per cent was two-thirds the year-over-year unit growth rate observed in 4Q04, illustrating a transition towards more richly configured systems in the market. This evolution is driven by IT managers increased desire to consolidate and virtualize their server infrastructures as they seek to maintain balanced and manageable IT growth in the future."
(Oddly, IDC completely ignored the role that increased interest in more powerful x86 systems would play on the Itanium server market in the report referenced earlier in this story.)
IDC also noted Windows server sales overtook Unix sales for the first time during 2005. Meanwhile, Linux server sales continued to rise at a steady rate, reaching $5.7bn in 2005. ®
Sponsored: Learn how to transform your data into a strategic asset for your business by using the cloud to accelerate innovation with NetApp