HP uses layoffs to draw thicker black line in Q1
Neat and tidy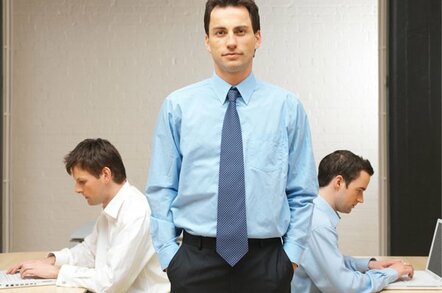 Cost-cutting measures and steady sales across its major product lines carried HP to a tidy first quarter.
The giant posted a six per cent year-over-year revenue increase to $22.7bn. More impressive was a 30 per cent net income boost to $1.2bn. That led to an equal rise in earnings per share to 42 cents from 32 cents in the same period last year.
"We are continuing to deliver on our plan to strengthen HP and better serve our customers," CEO Mark Hurd said. "Growth was balanced across most of our businesses and geographies, cash flow was strong and we were disciplined in controlling costs. While hard work remains ahead of us, our efforts are starting to show results."
The Americas proved most rewarding to HP during the first quarter with revenue rising 10 per cent to $9.7bn. EMEA revenue came in flat at $9.4bn, and Asia Pacific revenue jumped 6 per cent to $3.5bn.
There were no super performers on the product side of the house, although most of the groups turned in decent results.
The Personal Systems unit saw revenue rise 8 per cent to $7.4bn. Falling desktop sales were offset by a huge jump in notebook sales. This group reported a $293m profit.
The Imaging and Printing folk managed to push revenue higher by 8 per cent to $6.5bn. Laser printers and ink did the dirty work, and HP captured a $973m profit from this unit.
The Enterprise Hardware crowd posted a 5 per cent revenue rise to $4.2bn. Increases in x86 server sales and storage led this unit, which posted a profit of $326m.
The only unit to disappoint was the Services group, which watched sales drop 2 per cent to $3.8bn.
Aided by acquisitions, HP's software unit pulled in $304m – a 29 per cent rise.
The single-digit gains in product sales did less to impress investors than HP's improved bottom line. Layoffs were the primary factor behind the higher profits. Shares of HP rose more than 3 per cent in after-hours trading to $32.80.
HP is looking for revenue to come in between $22.4bn and $22.6bn in the second quarter. ®
Sponsored: Minds Mastering Machines - Call for papers now open