Open source ISVs must side with SAP to survive - SAP
That or be bought by Oracle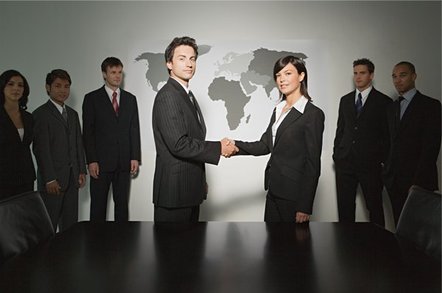 SAP has been pitching open source start-ups on the merits of its vision and strategy for doing business with enterprises, while knocking software rivals.
The giant told ISVs the enterprise software market is facing an imminent period of consolidation as companies reduce their costs, and said providing open source and Linux software alone will not cut it when it comes to doing business.
SAP EVP Peter Graf, speaking at the Open Source Business Conference (OSBC) in San Francisco, said ISVs' best chance of doing business with purchasers of enterprise IT is to partner with SAP. And, according to Graf, the best way of doing business with SAP is to become a member of its developer community and fledgling Enterprise Service Repository.
Duh!
The repository is designed to establish a growing source of composite applications, which SAP calls xApps, capable of extending SAP's proprietary architecture through NetWeaver and the Enterprise Services Architecture (ESA). SAP is trying to build a community, similar to Sun Microsystems' Java Community Process (JCP), that defines xApps architectures and interfaces.
Graf told ISVs it was "very, very difficult to build the inner workings of an enterprise application. It took SAP 30 years to know what capabilities you can put into a platform."
And time, according to Graf, is not on the young companies' side. "We believe open source business applications do not have time to mature before this huge consolidation wave hits. The invitation to you, is to join us," Graf said.
In an attempt to persuade ISVs to pick SAP over enterprise competitors, Graf said: "IBM doesn't have the applications to build into this. Microsoft doesn't have credibility in the upper end of the market. Oracle has nine or 10 problems to figure out."
SAP is, of course, locked in a war with IBM, Microsoft and Oracle over who can get the most developers building for their platforms, which would explain Graf's unsubtle attempt to steer programmers towards his own company's architecture and strategy. While bitterness towards Oracle is understandable, SAP has partnered with both Microsoft and IBM on software.
The Microsoft/SAP project Mendocino integrates SAP data and processes with Microsoft Office, giving SAP more of a window into business desktops. IBM, meanwhile, is providing the hosting infrastructure for SAP's hosted customer relationship management (CRM) service, CRM On-Demand Solution, announced last week.
SAP's pitch might fall on deaf ears if Oracle has its way. The database giant is picking up open source companies at speed - nabbing Sleepycat this week, while eyeing JBoss and Zend, according to reports. ®
Sponsored: Minds Mastering Machines - Call for papers now open