SWsoft takes Linux server slicer to eleven
Microsoft code still at ten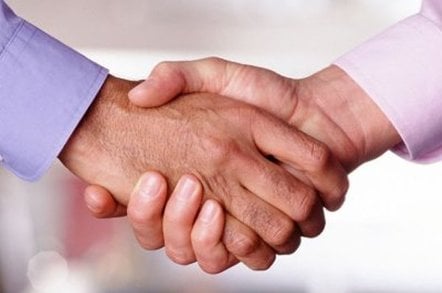 With the server virtualization race in full swing, SWsoft today rolled out a major upgrade for its Linux product and a fresh tweak for its Microsoft code as well.
Virtuozzo for Linux 3.0 stands as the most significant upgrade to SWsoft's server slicing product since 2002. The new software includes several upgrades for keeping servers up and running and for simplifying management. On the Microsoft front, SWsoft pushed out version 3.5.1 of its Windows product with a new tool for turning a physical server into a virtual one.
"Virtuozzo is the only virtualization technology for commodity Linux and Windows platforms which allows workloads to scale to large SMP, high memory systems without scalability or performance degradation," SWsoft CEO Serguei Beloussov said. "With these new capabilities, we are bringing the advantages of efficient virtualization technology to an even wider range of organizations by making it even easier to configure and administer highly available virtual servers."
SWsoft competes against the likes of VMware, Microsoft and XenSource. In the past, the software maker has targeted service providers looking to run hundreds or thousands of virtual servers. Of late, it has expanded this attack by going after large, corporate customers.
Beloussov admits that VMware is the clear market leader based on its impressive number of customers, but believes SWsoft offers a performance advantage over rivals and a wide variety of management tools (VMware this week made a product splash of its own by announcing a free version of its midrange product).
With Virtuozzo for Linux 3.0, customers will find a "zero downtime migration" feature. As you might expect from the name, this technology makes it possible to move a virtual server from one physical server to another without interrupting the software. This free tool can work without the aid of separate, shared storage.
SWsoft has also cut back on the basic configuration settings needed to set up a virtual server. In the past, administrators had to deal with tens of options, but they can now pick from the basics - memory, disk, networking and CPU - when creating a virtual server. Complementing this advance are a new set of configuration templates.
The latest release now supports versions of Linux using the 2.6 kernel.
The Windows product refresh includes a GUI package that makes it possible for administrators to drag and drop between physical and virtual servers. The technology will make sure a virtual server can deliver the same performance as a physical server before shifting a workload.
SWsoft has been at this virtualization thing for awhile, but has never enjoyed the cachet of VMware. And now it's battling away with start-up XenSource, which has managed to attract tons of attention as an open source virtualization option.
Beloussov knocks Xen as an immature play.
"Xen is a great idea and a very interesting architecture, but we actually have customers and significant revenue," he said.
Like XenSource, SWsoft expects key parts of its technology to be included in upcoming versions of the Linux kernel.
Its software starts at $1,000 per processor. ®
Sponsored: Minds Mastering Machines - Call for papers now open