There's no such thing as an open source business
Unless it uses Apache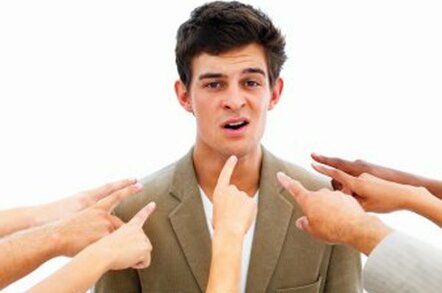 A gathering of open source pundits have confirmed that the phrase "open source" is what you make of it. We can all breath a little easier now.
The pundits - Tim O'Reilly, Sun Microsystems' Simon Phipps and IBM's Rod Smith - came to this conclusion yesterday at an SD Forum event here. Despite a couple of pleas from the SD Forum crowd, the speakers refused to narrow their definition of open source software or companies. Any vendor that uses Apache, for example, is part of the fabled open source community as they help drive a market for such products, the experts said.
"I don't believe in definitions," O'Reilly said.
(A number of SD Forum attendees must have shared an internal gasp at this utterance. Our internal dialogue went as follows:
Murmur, murmur, murmur. O'Reilly doesn't believe in definitions. Gasp. Murmur. Gasp. Murmur. How is this possible? Murmur. Gasp.
O'Reilly actually seems locked into the definition game. He's put thousands of words and god knows how many man hours into defining Web 2.0.
But we didn't receive a meme map for the SD Forum and were forced to take O'Reilly at his word.)
To their credit, the panelists shied away from hyping open source too much during the discussion and fought moderator Larry Augustine's urge to do so.
The rather obvious theme pushed by the pundits was that open source is not an end in and of itself. There aren't really pure open source businesses. There are businesses that use open source software as the central part of their attack. There are businesses that rely on open source software for some advancements in their own products. And there are businesses that run on open source software but don't sell or service one bit of open source code. Hardly mind-crushing stuff.
And the open source community isn't even as unique as some members of it would like to believe. Microsoft developers share the same passion and love of their code as the open source crowd, O'Reilly said.
The most spirited part of the open source discussion came as O'Reilly and Phipps went after Red Hat and Microsoft.
"I have a pretty clear prescription (for Red Hat), and that is know what business you are in," O'Reilly said. "I see Red Hat as a bit confused. I always thought Red Hat's mentor should be Dell.
"Integration is at the heart of what they do. Becoming better at the integration of all the open source software in the world is (Red Hat's) future."
O'Reilly and Phipps agreed that Red Hat could find itself in some serious trouble if it doesn't come to grips with its business sooner rather than later. A swift competitor could "route around" Red Hat, Phipps said, noting that the company has struggled with "the idea of letting go sufficiently."
The pundits also urged Microsoft to let go a bit more even though Microsoft is technically an open source company under their own definition. (Countless stories have appeared over the years about Microsoft housing an open source package here and there as a result of an acquisition and of it using open source software such as FreeBSD, for example, to power Hotmail in the past.)
"One of the things I see (Microsoft) struggling with today is that Google represents a bigger challenge to them than any previous competitor because they have a completely different business model," O'Reilly said.
The book man reckons that Google is a great example of an open source company because it uses vast Linux server farms to build and deliver software services to customers. He pointed, in particular, at Google Maps.
"Google Maps is the new open source," said the non-definer.
Apparently this is because some chap hacked Google Maps to create mashups. Microsoft and Yahoo!, by contrast, failed to make their map systems open enough for others to build creative systems on top of them. (Google sure is lucky. First it creates a huge ad business by accident and now it's the open source maps leader.)
Microsoft will have to relax some of its policies if it hopes to stay as competitive and creative as rivals, moving forward, we were told.
In conclusion, the open source experts don't believe open source will be such an interesting topic in five years.
"(Open source) will just be part of how you do business," O'Reilly said. ®
Sponsored: Minds Mastering Machines - Call for papers now open