BOFH: 'Did you know..?'
Yes, we did - we're Systems and Networks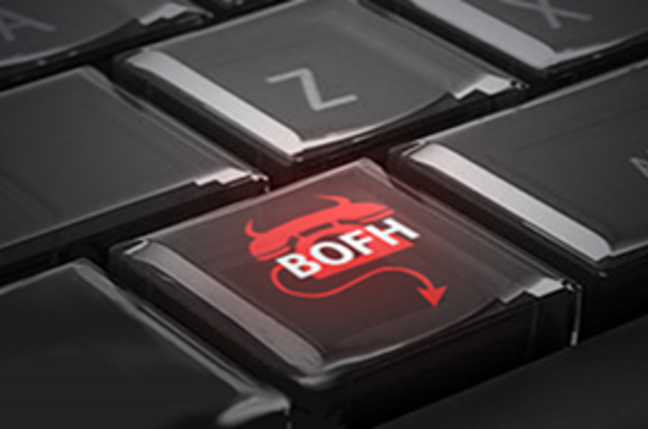 Episode 3 "Did you know..?" the Boss asks, strolling into Mission Control and attempting to read at the same time (which probably accounts for those thudding noises we heard earlier).
"Yes we did," the PFY says, getting in early before the Boss can really get started.
"How can you possibly know, I haven't told you what I'm talking about yet!?"
"We're quite used to not knowing what you're talking about, but in any case - we're Systems and Networks - it's our job to know," the PFY replies smugly.
"According to last year's 360 degree internal survey," the Boss continues ,"you're rated as the least-liked members of staff".
"Well, IT has never had a good rep with the punters," I counter.
"Not IT, just you two."
"Yeah, we knew that," the PFY says.
"I don't think you did. This report only came in this morning and, with the exception of this extract, has only been seen by the senior managers in the company."
"Yeah, we knew that, too."
"I find that rather unlikely. The results were collated by a top-flight company..."
"... which completed the draft findings two days ago, OKed by their auditing and legal people yesterday, was printed and bound in the early hours of this morning, delivered around here by a motorcycle courier, registration plate LM..."
"How can you know this?!"
"We're Systems and Networks," the PFY replies, oozing smugness from every pore.
"The report was delivered to the front desk at 8:22am," I continue, "received by Dave".
"Short Dave or Big Dave?" the PFY asks.
"Short Dave."
"Oh."
"...and was collected by the CEO's PA - who, incidentally, was the brains behind commissioning the report - was read by her between 9am and 10am and summarised into three main points to fit the CEO's attention span by 10:20am."
"I..." the Boss says.
"The CEO called the Head of IT about point two - the extremely poor rating of the Systems and Networks people - at around 10:40am; you were brought in at around 10:45am at which time the CEO unveiled the board's master plan to have a second, snap random survey executed in a couple of days, the results of which will be the basis for a round of dismissals at all levels of the company - no exceptions."
"It'll never fly!" the PFY says.
"It will!" the Boss blurts emphatically. "The CEO's already talked a large management consulting website into interviewing random managers for tomorrow's article on pruning corporate deadwood. The plan's going to be mentioned there!"
"Which managers?"
"It's random - no one knows. So you'd better do something about raising your profile!"
"Nah - People forgive and forget!"
"You're the worst-rated people in the company, they won't forget that - You need a plan to improve your rating!"
"Yeah, well, we had a plan to employ a stack of parking wardens."
"What?"
"To create a 'buffer zone'. But then we realised it'd cost us money so we changed the plan."
"To?"
"The same as the first plan, only we'd use insurance salesmen. It would cost less, what with commission-based payments and all."
"And I take it you've abandoned this plan?"
"Yes, with plan three we realised that we need to distinguish ourselves as a 'cut above' average."
"How?"
"Random acts of kindness, generosity above and beyond the call of duty, that sort of thing."
"I... don't know that it'll work given that you've only got three days..."
"And it's lunchtime," the PFY interrupts as the second sweep hand hits 12pm.
>EOC<
. . . 11am, three days later . . .
"So how the hell did staying in the pub on a three-day bender help your case any?" the Boss asks as we trundle into his office.
"We realised," I explain, "that by limiting contact with the punters we'd stop our situation getting worse".
"But I thought you said you wanted to be a cut above average!"
"We do!"
"Well how'd that help?" the Boss gasps.
"There are two ways to get to be above average," the PFY explains, raising a finger. "One, strive to improve."
"Yes yes," the Boss says. "And two?"
"Lower the average," the PFY says, raising a second finger and gesturing.
"I... What do you mean?"
"OK. Let's say finance got an anonymous tip-off that loads of people buy their mates meals and drinks and get them reimbursed under the guise of entertainment expenses and office sundries. As a result, the finance department rejects all outstanding expenses claims and actions an audit of all current and past claims, requiring people to produce receipts or else reimburse the company?"
"Yes... that would be unpopular," the Boss says thoughtfully.
"That IS unpopular," the PFY says.
"Or security get tipped off that smokers are leaving the external fire doors open and, as a result, people from other companies are sneaking in for the free lunch buffet - resulting in a no-smoking ban for staff within 10 yards of the building and compulsory ID card checks before you can get your lunch."
"Oh yes, that is rather annoying," the Boss concedes.
"But the worst one would be the quote on that Management Website from one of the managers they interviewed, calling the staff... ahmmm.... " I say, trying to recollect correctly.
"...a bunch of inbred hermaphrodite proles with the collective appeal of an unflushed toilet at a curry house," the PFY quotes.
"You're joking!"
"No no, that's what it says on the website! You should have see pagehits on the company proxy server. I think everyone saw it!"
"Well who said that?!" the Boss gasps.
...
...
...
>knock knock<
"That'll be security," the PFY says nodding at the door.
"YOU BASTARDS!!! But how'd you know they'd talked to me!?"
"We're Systems and Networks," the PFY sighs. "It's our job to know..." ®
Sponsored: RAID: End of an era?