IBM serves mixed grill in Q4
PC biz hurts, currency helps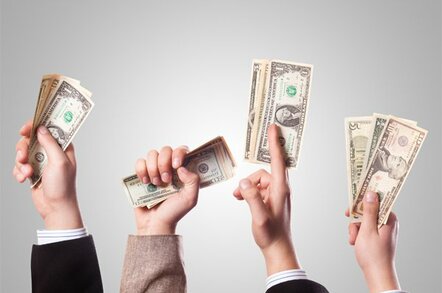 IBM's fourth quarter looked weak including the impact of its old PC business. Excluding the PC baggage, IBM's fourth quarter merely looked mediocre.
Big Blue's product groups failed to impress during the fourth quarter with sales declining in some units and barely rising in others. Without doubt, however, if IBM had retained the PC unit that Lenovo bought four months into the fiscal year, the numbers would have been much worse.
IBM's revenue fell 12 per cent to $24.4bn in the fourth quarter. Removing the Lenovo PC business from the figures, and after tweaking the results for currency effects, IBM's revenue rose three per cent.
Quite the difference.
CEO Sam Palmisano put a rather positive spin on the results.
"IBM finished the year with another strong quarter," he said. "We had solid performance in systems, middleware and business transformation services, which grew over 25 per cent for the year. Our cash position remains very strong, and we saw impressive growth in important parts of our business."
IBM's revenue in the Americas fell six per cent to $10.5bn (up three per cent in constant currency (CC) and excluding PCs) and dropped 16 per cent (up 2 per cent in CC and excluding PCs) in EMEA to $8.3bn. Asia-Pacific revenue tumbled 22 per cent (down 3 per cent in CC and excluding PCs) to $4.5bn.
Meanwhile, Global Services revenue fell one per cent in CC to $12.0bn, and Global Financing revenue fell 6 per cent to $605m.
Hardware revenue tumbled 27 per cent (25 per cent in CC) to $6.9bn. Gasp! That figure, however, compares to last year's fourth quarter which had PC revenue built in. Without the PC biz, IBM's hardware revenue rose nine per cent in CC. Phew!
"Total delivery of zSeries computing power, which is measured in MIPS (millions of instructions per second), increased 28 per cent," IBM said, eschewing the more familiar unit known to investors as "dollars".
"Revenues from the pSeries UNIX servers increased four percent; however, revenues from the iSeries midrange servers decreased 18 per cent and xSeries servers were flat. In addition to the eServers, revenues from Storage Systems increased 24 per cent and Microelectronics increased 48 per cent."
IBM's software revenue was flat (or up three per cent in CC) at $4.6bn.
To its credit, IBM earned $3.19bn during the quarter, up from $2.8bn last year and higher than analyst expectations.
For the full year, IBM's revenue fell five per cent (or up five per cent in CC and adjusting for PCs) to $91.1bn.
Despite not providing specific guidance on the first quarter, IBM's CFO Mark Loughridge was bullish on the period, indicating that analysts should increase their earnings per share estimates. ®
Sponsored: Minds Mastering Machines - Call for papers now open