Contractors not 'tax dodgers' - PCG
Gets the hump over Revenue ad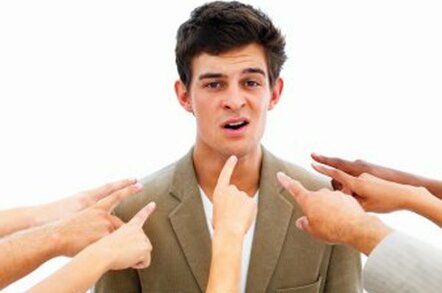 The Professional Contractors Group (PCG) is having a strop over an ad it claims portrays self-employed people as tax dodgers.
The group - which represents several thousand IT contractors in the UK - is so upset by the HM Revenue & Customs (HMRC) ad that it intends to file a complaint with the advertising watchdog.
The ad in question shows a plumber hiding under a kitchen sink, alongside a caption urging people to call a hotline to report self-employed people who don't pay their taxes.
"We are very disappointed to see HMRC resorting to such a negative campaign," said PCG chairman, Simon Juden. "The advertisement gives the impression that people who work for themselves are all tax dodgers, whereas, in fact, most are law-abiding citizens who pay their taxes.
"We shall be registering a complaint with the Advertising Standards Authority, and hope that future HMRC campaigns will refrain from offending and alienating the vast majority of the UK's 2.72 million self-employed workers who do pay their taxes."
The PCG's comments echo similar concerns raised last week by the Federation of Small Businesses (FSB), which described the ad as "clumsy". It also said the ad - which calls on people to snitch on tax cheats - "tars all of the UK's self-employed people with the same brush".
"We find it particularly offensive that the implication in the advert is that all self-employed people do not pay their taxes. The self-employed in the UK contribute to the economic well-being of this country and this advert is a harmful and misleading attack upon them," the FSB said in a statement.
But a spokesman for HMRC defended the use of the ad and acknowledged that the "majority of small businesses are entirely honest and scrupulous in their dealings with us".
He went on: "This advertisement, and the campaign, are both aimed squarely at the non-compliant minority and we are not in any way suggesting that all, or even most, small businesses fall into this category. We are sorry if the intention behind the advertisement has been misinterpreted in any way." ®
Sponsored: Minds Mastering Machines - Call for papers now open