Ex-PeopleSoft CEO lands on Salesforce.com's board
We'll get you, Larry - this time!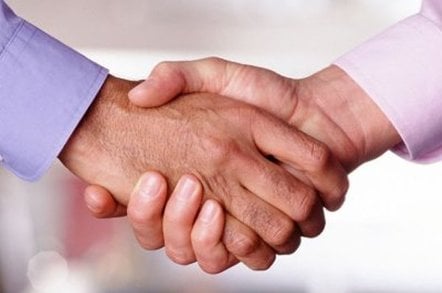 Salesforce.com has turned its boardroom into a tool for poking and prodding the egos at Oracle. The CRM company today added former PeopleSoft CEO Craig Conway to its director list. Yes, Conway has turned on his old staffers apparently with revenge in mind.
Like Salesforce CEO Marc Benioff, Conway once served under Oracle CEO Larry Ellison. This trio hasn't had the prettiest relationship since with Salesforce looking to take PeopleSoft's business, Oracle taking PeopleSoft and now Oracle looking to take Salesforce's business. In fact, Oracle recently upped the competitive rhetoric, saying it would like "to crush" Salesforce.com instead of just buying it. Larry loves his sport.
You've got to believe that Benioff brought Conway on board as a type of political jab. After all, he hasn't always voiced the most respect for Conway's management style.
"I think this could bury him," Benioff told one magazine about PeopleSoft's bid for JD Edwards. "He's trying to buy himself market share, but he's buying the past, not the future. He's doing something non-strategic."
Similar statements have been common between both Benioff and Conway, as they battled for attention.
Now, there's only room for niceties.
"We are delighted that Craig is joining the board," said Benioff. "Craig is a seasoned executive who brings a wealth of industry and business knowledge that will benefit salesforce.com . . . Craig's strong operational credentials will be valuable a contribution to our company and we look forward to his guidance and counsel."
In other words, "Help us get revenge. Help us beat Oracle." ®
Sponsored: Minds Mastering Machines - Call for papers now open