EMC dishes up Exchange storage special for the little guy
'Hard for us, easy for you'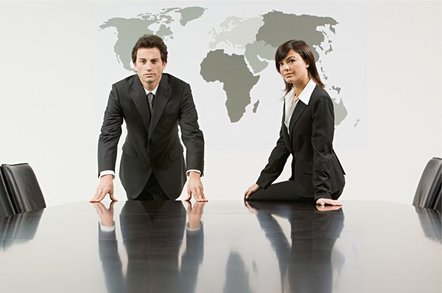 After an extended incubation period, Storage Administrator has arrived in all its rebranded glory from EMC with the promise of making Microsoft Exchange Server easier to manage for small- to medium-sized businesses.
In its previous life at Allocity, Storage Administrator shipped under the Live!Ex brand. EMC bought Allocity in November of 2004 and merc!ifully di?d away with mid-mon;iker punct"u"ation. The major additions to Version 2.1 of Storage Administrator for Exchange include iSCSI support and support for EMC's lowest-end Clariion box - the AX100.
EMC launched Version 2.0 of Storage Administrator "internally," saving the 2.1 fanfare for a strong news cycle, we were told. Apparently, the Storage Decisions conference held this week in New York provided a robust enough news cycle for the unveiling.
The iSCSI and AX-100 support should be key for the types of customers EMC hopes to attract with Storage Administrator. The product is aimed at companies with relatively modest IT resources who could use a hand managing their systems.
Storage Administrator plugs right into the Microsoft Exchange System Manager interface and lets customers control e-mail, data moves and overall SAN (storage area network) systems.
"For example, users can input Exchange requirements such as mailbox numbers, user quotas, and expected growth via the familiar Exchange System Manager interface," EMC said. "The software then automatically creates the storage configuration and expands capacity as the requirements of Exchange Server increase."
It's these automated tools for moving information or making sure enough disk is around for Exchange that EMC believes will really help out smaller companies.
Given that EMC has owned Allocity for almost a year, we asked what other new features had been added to the product besides the iSCSI and AX-100 bits. Katie Curtin-Mestre, a director of marketing at EMC, told us that most reporters don't ask such probing questions, so the company had decided to spare hacks the gruesome upgrade details. Then she confessed that EMC had, in fact, improved "the storage layout and allocation, improved monitoring and notifications" and added new RAID tools.
And for extra emphasis, Curtin-Mestre assured us that adding iSCSI and AX-100 support wasn't as easy as it seems.
"Although it seems very simple, this is a very sophisticated product," Curtin-Mestre said.
While things were a bit tense there for a moment, the cheerful Curtin-Mestre lightened up the interview by admitting a certain fondness for El Reg's slogan. You know the one. She questioned us as to whether or not we had T-shirts for sale. DO WE EVER.
We offered to send Katie a shirt, if she would provide an address, but we don't think she took us seriously.
Nonsense aside, you can find plenty more on the product here.
It starts at close to $2,000 with the AX-100 and will cost $6,000 with the larger CX-300 box. EMC reckons the product is ideal for customers with less than 3,000 Exchange mailboxes. ®
Sponsored: Minds Mastering Machines - Call for papers now open