Prez Sueltz leaves Salesforce.com
Quick exit from CRMville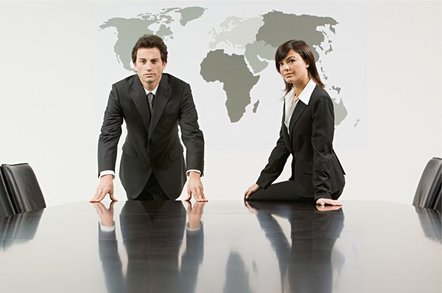 Pat Sueltz has left Salesforce.com after serving just 14 months as the firm's president.
Sueltz last week disappeared from the CRM maker's mangement list. The firm, while silent on the reasons for Sueltz's exit, did confirm during an earnings call that she has departed "to pursue other opportunities" - always a popular pastime for ex-executives. The company is not expected to name another pure President, deciding instead to stick with president of distribution Jim Steele for the time being.
Sueltz's arrival at Salesforce.com was as much of a surprise as her departure. The executive bolted from a high profile position as head of Sun Microsystems's service division where she managed to push revenue higher while other divisions floundered. Before that, Sueltz drove Sun's software business and before that worked at IBM.
Once a theology student, Sueltz comes off as a warm character and was drawn to Salesforce.com CEO Marc Benioff's supposed "Zen-like" approach to business and life. (Benioff's penchant for yoga and swimming with dolphins has earned him many a puff profile.)
One source said Sueltz was "devastated" over the parting of the ways with Salesforce.com. Sueltz joined the firm believing she would be groomed for the CEO position. Sueltz did not return our call seeking comment.
Salesforce.com's immediate performance doesn't appear related to this executive shuffle. Last week, the online CRM app company reported a tenfold increase in its first quarter profit to $4.4m. Its revenue, at $64.2m, almost doubled year-over-year, as the company added 40,000 subscribers. ®
Related stories
Sun's services queen jumps ship for Salesforce.com
Sun's services queen ready to take on the Big Bad
Software as service: read the small print
Oracle talked takeover to Siebel
Sponsored: Minds Mastering Machines - Call for papers now open