DataCore gets cheap and dirty with iSCSI SANs
SANmelody 2.0 - low-cost, high-end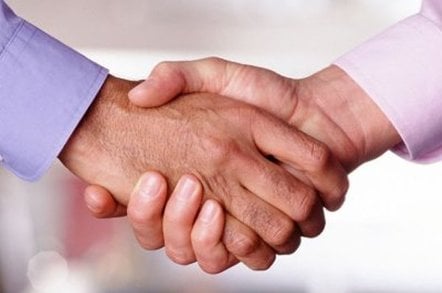 Relatively cheap but sophisticated storage management tools continue to make their way down market thanks, in part, to renewed interest in the iSCSI protocol. The latest company trying to push this trend is DataCore Software, which has this week released Version 2.0 of its SANmelody software.
This software basically lets a customer take two, standard one-way servers and use them to open up their SAN (storage area network) to high-end virtualization technology. The servers, running Windows and SANmelody, sit in front of a SAN and present an abstract view of the disks to servers.
In this age of virtualization and heterogeneous management hype, the story here is pretty familiar. DataCore, however, does have a unique pitch - price. The base SANmelody software starts at just $1,000 and can serve up 8 virtualized disk drives to as many systems as a customer needs.
DataCore has a higher-end, more expensive product called SANsymphony for connecting very large numbers of servers and storage systems together but thinks the features added to SANmelody will give most small- to medium-sized businesses all the management punch they require.
One of the main new tools in Version 2.0 is something DataCore calls "virtual capacity." This technology will automatically free up more storage space for a database, for example, without demanding any hardware shutdowns. DataCore did provide this type of service in the past, but it was more complicated to set up. In the latest rev of the software, customers will find a wizard to guide them through the "virtual capacity" process.
The second main addition to SANmelody is iSCSI failover. Here DataCore is trying to make the most of iSCSI technology by giving lower-end systems the type of redundancy you might expect with pricey Fibre Channel kit.
"If you look at the high-end of the market, companies are using things like crossbars or clusters to pull this off, and that stuff is pretty complicated," said George Teixeira, the CEO at DataCore. "We use standard Ethernet connections between two servers to come up with a system that is comparable to anything out there."
To go along with these additions, DataCore has also built in support for all of Microsoft's latest storage technology such as Volume Shadow Copy Service, iSCSI support in Windows Storage Server, Virtual Disk Services and hooks for Microsoft Clusters.
DataCore went through a tough time a couple of years back when the large vendors were able to steal much the virtualization attention by announcing broad management platforms. The likes of EMC, IBM, Hitachi and Veritas all promised to manage a wide range of hardware from numerous vendors and to create the fabled "pools of disk" that could be controlled from a single console.
Most of these products, however, never arrived as billed. The "heterogeneous" management software has ended up being rather "homogeneous." And the virtualization tools have been mediocre at best.
The big vendors' failures and a heightened interest in virtualizing servers and storage systems has helped out the likes of DataCore in recent months, according to Teixeira.
"We had some tough times in 2003 to be blunt," he said. "But SANmelody changed the market for us because it's easy to use and the price is low. It's what customers are looking for."
DataCore, to be sure, doles out the same virtualization garble as every other vendor, promising a management heaven full of automation and abstracted disk. To its credit though, DataCore does at least place a heightened focus on keeping the price of its products down. You're not committing a huge chunk of a storage budget to get virtual here or making a long-term commitment to the proprietary.
You're basically just buying a $1,000 virtualization server to free up more information to more clients.
There's much more detailed pricing information on the SANmelody product available here. ®
Related stories
Cisco eyes the server with $250m Topspin buy
IBM sells storage software to partner Cisco
Wizards at Cisco find brain for storage switches
HP and Falconstor team on fancy storage kit - report
IBM's storage software owns all of EMC kit
HP kills slow-selling marketing miracle
Sponsored: Minds Mastering Machines - Call for papers now open