IBM server breaks time - marketing continuum to tie Dell to market
Reg ordered to fix the past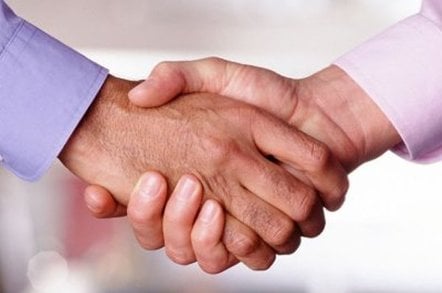 IBM has pulled off a minor marketing miracle by delivering a four-processor 64-bit Xeon server well ahead of schedule.
IBM today officially started selling the highly touted x366 server. This is the first system to use IBM's new Hurricane chipset. It's also one of the first boxes from a major vendor to ship with Intel's 64-bit Xeon processors designed for four-processor and larger servers. IBM, Dell and HP all joined Intel today to announce new systems using the Xeon MP chip.
But you have to work really hard to find any of this out.
At the time of writing, it's almost impossible to place an order for the x366 on IBM's website. The server doesn't appear as an option on IBM's standard server sales page. You can, however, find the four-processor gem if you're willing to do a bit of digging. Being good sports, we'll save you some time and point those interested right here.
Now this is where the miracle comes in.
IBM first announced the x366 in February but said at the time that the server would ship "within 90 days". A typical translation of this vendor-speak comes out as "it will arrive in three months".
But IBM gave us a personal call today to say that the x366 had started shipping well ahead of schedule. How courteous, no?
Well, not exactly. An IBM spokesman was upset that we placed Dell ahead of both IBM and HP in a story yesterday about Dell's upcoming four-processor Xeon server. Silly us, we took IBM at its "within 90 days" word.
The IBM spokesman asked that we fix our Dell story to indicate our ability to see into the future. We should have known yesterday that IBM would release its box today, hence actually tying Dell to market with product.
"Dell was not first," the spokesman said. "Actually, we announced on 2/22, you should well remember. From our press release on 2/22: The IBM eServer xSeries 366 server is planned to be available in volume within 90 days."
Anyhow, IBM reckons the homemade Hurricane chipset gives it a huge edge over rivals Dell and HP who don't spend cash on in-house Xeon chipset designs. So, if high-end Xeon gear is your bag, have a look at the x366. It's now available. ®
Related stories
Dell gives Xeon servers a 64-bit injection
IBM and Novell grease Linux development wheels
'Get a lawyer!' Sun tells developers
IBM rediscovers ancient plan for renting powerful computers
Microsoft's Sun server fetish revealed
Sponsored: Minds Mastering Machines - Call for papers now open