HP celebrates Opteron, IBM doesn't
Intel cheered at Big Blue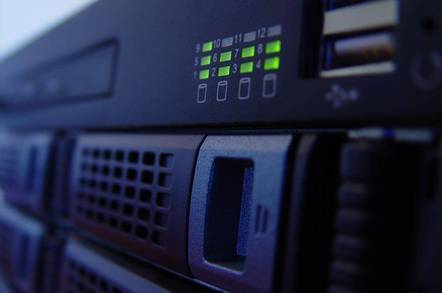 While HP and IBM turn to both AMD and Intel for chips, it's easy to tell that all relationships are not equal between these vendors.
This week, for example, HP rolled out three, new systems based on AMD's Opteron processor. It showed off the two-processor DL385 and BL25p and BL35p blade servers. These boxes have been in the works for a long time with The Register uncovering their existence back in September.
The casual observer might conclude that these are just some new x86 systems. Nothing special.
The boxes, however, underscore HP's commitment to Opteron in the x86 market. The DL385 is an HP-designed system - not a repackaged server from an Asian design house. It taps much of the top-class technology found in the four-processor DL585 and flaunts the ProLiant brand.
Similarly, the blades mark the first systems of their kind from a Tier I vendor. The BL25p ships with up to 2.6GHz Opterons, while the more energy efficient BL35p ships with two 2.4GHz (68 Watt) chips. Egenera is the only other major blade vendor to announce Opteron systems.
Along with these servers, HP put out the Opteron-powered xw9300 workstation. The box starts at $1,899 and holds up to two 2.4GHz chips, has the latest Nvidia graphics kit and supports up to 16GB of memory.
HP announced this gear on the same day that AMD upgraded its Opteron processor line. Such a joint-launch would have been unthinkable a year or so ago. Back then, Intel gripped HP with a tight fist. Now, HP has the most complete Opteron server line around and is damn proud of it.
The same cannot be said for IBM.
IBM today stood behind Intel by announcing new servers built with the latest Xeon DP. The fresh Xeon part - aimed at dual-processor systems - has 2MB of L2 cache. By the end of this month, IBM will have the Xeon chip in its xSeries 226, 236, 336 and 346 systems and its BladeCenter HS20 product.
IBM does sell an Opteron server, but it doesn't tell the world about it terribly often. Funny that, since IBM was the first major vendor to get behind Opteron when AMD introduced the chip some two years ago.
You get the feeling Intel didn't appreciate that AMD embrace and has played a role in IBM's unambitious Opteron product plans. Rumors swirl that convincing amounts of Intel marketing money keeps IBM from shipping more Opteron gear, but only gullible types would believe such gossip.
What is for certain is that HP celebrated the arrival of new Opterons, and IBM celebrated the arrival of new Xeons. The vendors have picked their sides. ®
Related stories
Intel ships 2MB cache 64-bit Xeon
AMD slashes processor prices
AMD unveils next-gen 90nm Opterons
Ex-Intel sales chief joins TSMC
Linux maker sprouts MP3 server
Intel pushes out low end Grantsdales