Fujitsu Siemens hails H1 growth
Clawing market share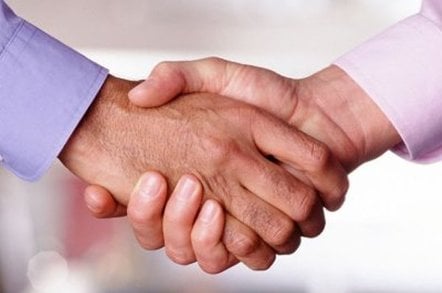 Fujitsu Siemens Computers had a good first half year with sales up 15 per cent between April and September to €2.56bn, compared with last year. Pre-tax profits climbed 60 per cent to €18m. Which is nice, but profits should be much bigger for a company of Fujitsu Siemens' size. Even if it is in the cut-throat computer hardware sector.
Unit shipments for the mostly-hardware company were up 32 per cent for the first half, showing that average selling prices (ASPs) were down. Either that or the margin mix has deteriorated - i.e. fewer servers, storage monsters and ancillary services, and much more desktops and notebooks.
By its own reckoning, Fujitsu Siemens outgrew the market in EMEA by eight per cent in its first half. So who is it clawing market share from? The firm is not saying. Also is the market-grab success coming at the expense of profits?
Fujitsu Siemens is now five years old. It combines the European computer hardware businesses of Fujitsu and Siemens. Fujitsu operates on its own account in the rest of the world, while Siemens... does it have a computer hardware business outside Europe? Answers on a postcard, please.
The firm forecasts five per cent revenue growth for the rest of the year (at current exchange rates) and ten per cent for the full year. It names mobiles, servers, and supporting services as "primary growth areas".
Now for a quote from Bernd Bischoff, President and CEO of Fujitsu Siemens Computers. "We have shown healthy revenue and profit growth, and our company continues to outperform the market. We are nevertheless aware that competition remains very tough and that we always need to go the extra mile for our customers." ®
Related stories
Transmeta: 2GHz Efficeon to offer SSE 3 support
Sun hypes new UltraSPARC and Siebel love
Hitachi readies notebook Serial ATA hard drives
Evesham Voyager 64 Athlon 64 notebook
Sponsored: Minds Mastering Machines - Call for papers now open