Europe wants its own SAN demo labs
Hey, we can do technology too, says SNIA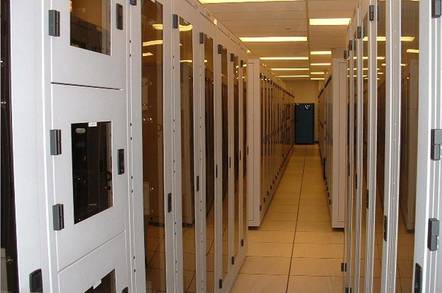 Emboldened by the success of the Solutions Centre at this year's Storage Networking World Europe, the SNIA-Europe board wants to create its own European technology working group, and will look at building a European SAN technology demonstration centre.
SNIA technical work has historically been almost entirely US-based, with its main demonstration centre being based in Colorado Springs. Regional groups such as SNIA-E focused instead on education and awareness. However, this week saw more than 100 SAN experts from 16 companies get together in Frankfurt to build and demonstrate a multi-vendor storage network.
"The Solution Centre group has demonstrated European technical capability for the first time," says SNIA-E chairman Paul Talbut. "The collaboration has been on a scale never seen before here, and it would be a waste just to pack all that expertise up tomorrow and see it go away."
Visitors to the Solution Centre saw demos of SAN management, multi-vendor management via SNIA's SMI-S standards, and IP storage. Rainer Erkens, who chairs SNIA-E's solution committee, says planning for this started back in February and culminated with three weeks of testing at IBM's nearby Mainz facility. "We have gained a lot of experience working together and we shouldn't lose that," he says.
"We need to capture that technical expertise, and possibly build the justification for a European technology centre," agrees Talbut. "That has to deliver value to end users though, and be very clearly thought through." Several companies already have European SAN technology labs, including IBM, and StorageTek in Toulouse.
Talbut adds that, with SNIA-E taking control of SNW-Europe away from the SNW-US organisers and moving it to Frankfurt, the number of delegates is almost back up to pre-2001 levels, when the event was still called EuroStorage. Nearly 800 users and buyers registered to attend this year, which was more than double last year's event in Cannes - and Talbut says most of them actually turned up, too. ®
Related stories
Euro SAN groups merge at last
Is SNIA's shared storage model a dead end?
Euro storage network bodies to merge
Sponsored: Minds Mastering Machines - Call for papers now open