HP preps little EVA starter box
A software bundle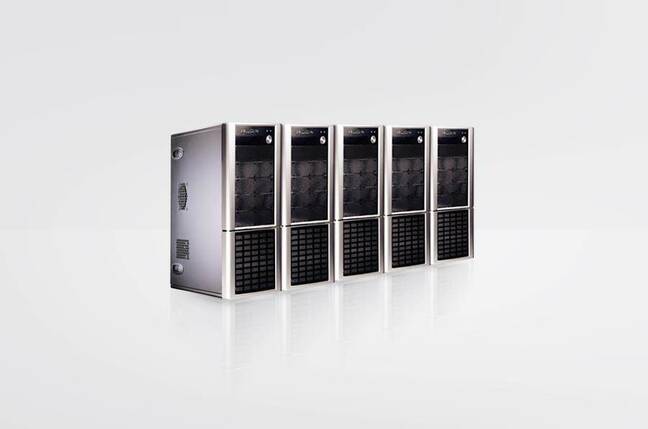 HP World In a bid to boost its lagging storage business, HP today announced a new "starter kit" system in its EVA line that can scale up to 16TB.
The EVA3000 starter system is meant to help customers roll out low-end to midrange-sized SANs (storage area networks). It arrives as a SAN array with 2Gb Fibre Channel and bundled management software. HP is especially proud of the hardware/software pairing available with the new kit, saying this is a first in "all-in-one pricing and packaging." The new box comes at a time when HP's storage business is being hammered by rivals - namely EMC.
The new EVA3000 box ships with two controllers, one disk enclosure and just over 1TB of capacity with eight 146GB Fibre Channel drives . As promised, the system also comes with HP OpenView Storage Operations Manager (OVSOM) Version 1.2. It includes the activation of two Secure Path host licenses for either HP-UX, Windows, Linux, Solaris, AIX or NetWare as well. All told, this system will ship on Sept. 1 for a price of $42,000.
Last week, HP blamed a poor third quarter performance by its hardware division on storage failings. HP was punished by tight pricing and lost ground to EMC in the period. Some have pointed to HP's few refreshes to the popular Compaq produced EVA line as one reason for the losses to EMC.
There's more information of HP's new EVA system available here. ®
Related stories
HP unveils Unix roadmaps
HP: The Adaptive Enterprise that can't adapt
HP shares tumble on weak Q3
HP maps growth path
Sponsored: Are DLP and DTP still an issue?