Sun forgets about Novell, remembers products
Linux gets thin and sits on Solaris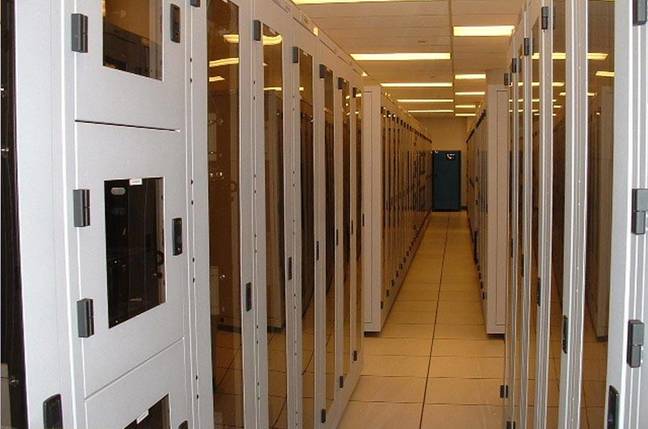 LinuxWorld After stealing the spotlight on day one of LinuxWorld, Sun Microsystems settled down and managed to make some actual product announcements at the show.
Heading up Sun's Linux push was a preview of the Sun Ray Server Software Version 3.0. This thin client software, due out by year's end, has traditionally run only on Sun's Solaris servers with UltraSPARC processors. Now that Sun has a new line of Opteron-based systems, it will take the Sun Ray code and make it available for Linux as well.
Due to the power of AMD's Opteron chip, customers can expect to see significant cost reductions should they go the thin client route. Sun is estimating that well over 20 Sun Ray users can be supported on a two-processor Opteron server.
While a Sun Ray thin client costs about the same as a basic PC, Sun maintains that customers will save money over time by moving to a centralized client management model. One administrator can, in theory, administer myriad thin clients from a single console. In addition, Sun's thin clients are stateless devices with few moving parts, meaning they don't have to be upgraded every couple of years, and they don't drown offices with sounds of busy fans.
When the 3.0 Version of the Sun Ray software arrives, Sun will also deliver its long-awaited Wan Ray technology. The Sun boffins have managed to make thin client computing effective for users with 300Kbps connections and above. This means employees can now simply carry their Java card back and forth between home and work have basically the same PC at their disposal.
You can imagine service providers piggy-backing on this idea and delivering cheap thin clients to business customers or consumers. AOL could, for example, take its $300 PC deal to the next level by shipping an even cheaper thin-client to homes. It could manage the systems for users and promote the product almost as a web surfing, e-mail appliance for those interested not in frills but low bills.
This thin client fantasy, however, has been going on for some time now. While Larry Ellison and Scott McNealy might like to reminisce about the good old days by sending e-mail with their tiny machines, most users still seem more comfortable with fat clients humming away under their desks. One day though . . . one day.
Elsewhere in the Sun kingdom, the company touted a not so secret effort called Project Janus.
For years, Sun has been looking to make Linux applications run well on Solaris, and in Solaris 10, the company is certain it's "mission accomplished." Linux applications can now run unchanged on Solaris. This means, "there is no longer a reason to make sacrifices when choosing between Linux and Solaris," according to Sun software chief John "Kicking Windows one day at a Time" Loiacono.
With Solaris 10, customers will be able to run Linux applications and still use some of the OS's newest features, including DTrace and the ZFS file system. Project Janus arrives with Solaris 10 near the end of this year.
Sun also used LinuxWorld to plug its "disruptive" eBay hardware auctions. Sun has been offering up its entire Opteron-based fleet from the four-way V40z down to its workstations on the auction site. The average selling price of the four-processor box has been $5,500. Sun is hoping to push the price of these boxes higher by using CEO Scott McNealy's signature. As we understand it, HP plans to counter this offer with Carly Fiorina leaving lipstick marks on ProLiant systems. ®
Related stories
Novell takes SuSE Enterprise Linux to the next kernel
Veritas makes Linux as strong as Solaris
Sun turns WSJ into Novell buy spin machine
Sun targets HP-UX and Windows with software subs
Sun's Opteron fleet finally goes on sale
World's best-dressed Linux backer leaves Sun
Sun staff give birth to 64-bit Solaris on Opteron
Sponsored: RAID: End of an era?