Window's NT Infernal File System
Here be dragons, courtesy of O'Really
Cash'n'Carrion O'Really fans will be delighted to learnt that - as of today - we have taken delivery of an all-new offering from the must-have geek range in the form of Window's NT's Infernal File System.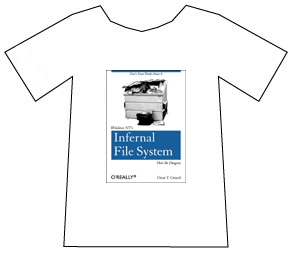 Yes indeed: with luck you might be able to find that file again. You're a sysadmin; surely it's not that hard? Or perhaps you're a deep API programmer. In which case you know there's no way back now. You lost your soul a long time ago to the MFT and O'Really can only offer condolences and promise to contact your family in the event of your death.
It won't be long now.
In the meantime, console yourself with one of these top-quality cotton items which are available in medium, large, XL and XXL for £12.76 (£14.99 inc VAT).
And don't forget - we have no fewer than seven O'Really designs for your delight and delectation, right here. ®