NEC shrinks music, grows phones
How many features can you fit on a phone?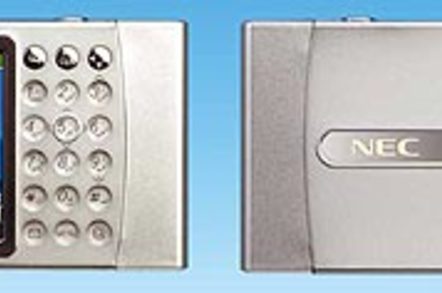 CeBIT NEC has launched the e616, its latest feature-packed 3G handset at CeBIT. Fire it up and you've got video calling, audio and video streaming, video recording and playback and, significantly, built in GPS.
It has all the diary features we've come to expect from our handsets, Java, and 19MB of phone memory expandable to 128MB with a Sony memory stick. If that isn't enough, you can use it to make video calls to a PC, using the 3G gateway. Top it all off with a 2.2inch 65k colour screen, and you've got a handset to be proud of.
The e616 will be available globally through Hutchison Whampoa. It isn't tiny, but NEC has put a lot into it. Features take up space.
Continuing the handset-fest at CeBIT, NEC also announced that its slinky little card phone is now shipping in China. This phone is stupidly small and somehow NEC has squeezed a 2 mega-pixel camera into it.

As well as getting new 3G phones ready for the market, researchers at NEC have been busy developing an audio coding algorithm as an extension for the MPEG4 AAC.
It shrinks the bit-rate even further, and the boffins on the stand told us that 128 kbps of stereo CD quality (MP3) can be encoded in 48Kbps, roughly 50 per cent down from MPEG-4 AAC's current 96Kbps. Three cheers for less power drain. ®
Sponsored: Minds Mastering Machines - Call for papers now open