IBM prepares Opteron workstation charge
Better than Itanium and Xeon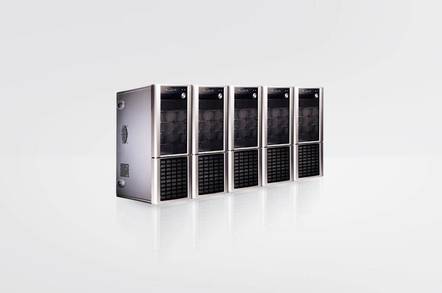 IBM will bulk up its line of Opteron-based products later this year with the roll-out of a new workstation.
At the end of May, IBM will start shipping the new dual-processor IntelliStation A Pro system, offering AMD's Opteron processor running at up to 2.2GHz. The box will be aimed at engineers in need of powerful kit and at developers writing applications for the relatively new chip. Last year, IBM started shipping an Opteron server aimed at the technical computing market.
"With the AMD Opteron processor, the IBM IntelliStation A Pro gives workstation users the power to handle demanding applications such as computer aided design (CAD), computer aided engineering (CAE), petroleum exploration and production, drug discovery, digital-content creation and financial analysis," said Bob Lenard, director of IBM's IntelliStation products. "Additionally, with AMD64 technology, our customers are getting the scalability of 64-bit computing without sacrificing compatibility and performance for existing 32-bit applications."
That's right, Bob. But that's not all.
IBM led the major server vendors with its support for Opteron, joining AMD at the product's launch. Since then, however, IBM has seen Sun Microsystems and HP overtake it with AMD64 technology. Both Sun and HP are in the process of building out fairly broad Opteron server lines. What has been lacking from all the major vendors is a solid development platform for tuning Opteron-ready apps. And that's exactly what the new IntelliStation delivers.
The kit is stacked full of goodies, including 1MB of L2 cache, support for up to 16GB of memory, five PCI slots and one 8x AGP slot. IBM is also supporting Nvidia's Quadro NVS 280, FX1100 and FX 3000 graphics products.
In addition, the box is great for those Intel processor customers that just don't know where to run, according to IBM - itself an Intel backer.
"The A Pro offers a great alternative to Intel Itanium workstations because of its attractive price/performance as well as the simpler transition from 32- to 64-bit computing," IBM said. "Current Intel Xeon customers will find the IntelliStation A Pro attractive. It positions you for the future of 64-bit computing. It lets you run your 32-bit application today without sacrificing performance, and positions you to move to a 64-bit application when you are ready to do so."
Sadly, customers will have to wait for a 64-bit version of Windows to run on the workstation. IBM is only supporting Microsoft Windows XP Professional at this time and waiting, like the rest of us, for a 64-bit version. Both 32-bit and 64-bit versions of Red Hat Enterprise Linux WS 3 and SuSE Linux are available. ®
Related stories
Intel's Xeon Extender promises to enlarge your memory size
HP nips and tucks low-end servers
Server competition heats up
Sponsored: Minds Mastering Machines - Call for papers now open