Asus SK8V AMD Athlon FX-51 mobo
Top performer
Review I'm fairly sure that a lot of you have glanced at AMD's Athlon 64 FX-51 at one stage or another and wished you could afford one. But it's not only the processor that will set you back a small fortune as you need special memory and a specific type of motherboard for it to work. A cheaper alternative would be to get one of the 14x series of Opteron processors, but again you need the same expensive memory and motherboard, writes Lars-Göran Nilsson.
Asus was one of the first motherboard manufacturers to launch a single processor solution for the Socket 940 platform. The SK8V is Asus' latest single-processor Socket 940 board and it's based on the VIA K8T800 chipset. What gives the Socket 940 processors an advantage over the Socket 754 based ones is the ability to use dual-channel DDR memory.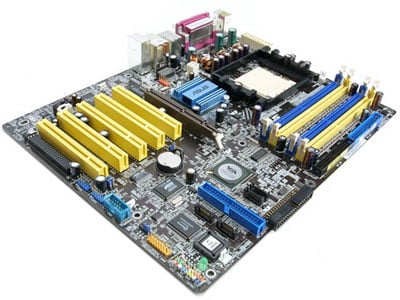 This will change later this year, though, when AMD introduces the consumer-level Socket 939 for the Athlon 64. This will use standard DDR memory, instead of the far harder to find and considerably more expensive registered memory that the current Socket 940 platform is using.
But let's get on with the subject at hand and take a closer look at the features of the SK8V. Asus has fitted four memory slots to make the most out of the board's dual-channel memory support. There are three IDE connectors and four Serial ATA connectors, but one of the IDE and two of the SATA connectors belong to a Promise RAID controller. You are therefore limited to two separate RAID arrays (one using the Promise controller and one using the RAID controller built into the South Bridge) if you intend to use four SATA drives with the SK8V.
Other features include on-board 3Com Gigabit Ethernet, two Firewire ports, eight USB 2.0 ports and 5.1-channel sound, along with optical and coaxial S/PDIF output. The sound is a little better than on most boards, being provided by an Analog Devices AD1985 chipset, which offers better signal to noise ratio than most AC97 solutions. There is also a proprietary Asus Wi-Fi slot on the motherboard to which a wireless network card can be added.
General board layout is good and there are no major complaints, but the onboard Firewire header would have been more useful in the front instead of the header for the joystick port. But this is a minor issue and only matters if your case has a front-mounted FireWire port.
You'll find a good array of accessories in the box, including a Firewire bracket, a USB bracket with four ports, a bracket with optical and co-axial S/PDIF outputs, SATA data and power cables, as well as three IDE cables and a floppy drive cable.
One interesting accessory is the inclusion of a set of stickers for the keyboard which shows what keys to use with the Asus Instant Music BIOS-based CD playback software. There is also a CD supplied with interVideo WinDVD Suite which consists of WinDVD, WinDVD Creator and WinRip.
There is very little to wish for apart from the already included features and this makes the SK8V a very good base for a high-end PC. In terms of BIOS and software features Asus has added a few tweaks of its own, including voice diagnostics (yes, the motherboard will tell you what has gone wrong) and automatic fan adjustment. You can even create your own BIOS logo. One of the features that may interest potential buyers is the Instant Play audio CD playback utility that allows you to play music CDs without booting into the operating system. This is a novel feature, but not exclusive to Asus.
The performance results are close to what I expected and as we have only tested a couple of FX-51 PCs to date, I'll compare some of the results to faster of the two. The SK8V board is a couple of points slower in SYSmark 2002 than the Evesham Axis FX51 but this could have something to do with the fact that the Evesham system featured a hard drive RAID, which would add some performance advantage.
The remaining benchmark scores are actually a step up from the Evesham, but this is harder to explain as the Axis FX51 was fitted with the same motherboard. However, a newer BIOS version was used on this board along with newer device drivers.
There were, however, some slight stability issues during some of the benchmarks, but most where solved by applying a patch to the benchmark in question. The only concern here was that SPECviewperf did have problems running on the SK8V but it managed to complete in the end.
All in all the SK8V is an impressive board and an excellent platform for anyone looking at building themselves a high-performance PC or entry-level workstation. So what about the price? Well, the SK8V is one of the cheapest FX-51/Opteron boards out there at a very reasonable £145.70. This is not cheap compared to a basic Athlon 64 board, which you can easily find around the £100 mark, but if you want to run the top-performing AMD processor you're going to have to dig a bit deeper.
Verdict
The SK8V is a top performer with plenty of features at a reasonable price. It may be more expensive than standard Athlon 64 motherboards, but if you've decided on an FX-51 processor, you can probably afford it.
The Asus SK8V motherboard was tested using an Athlon 64 FX-51 processor, 1GB of Corsair TwinX registered memory, a Connect3D Radeon 9200, a Crucial Radeon 9800Pro and a Seagate Barracuda ATA V hard drive.
Visit The Reg's Review Channel for more hardware coverage
Sponsored: Minds Mastering Machines - Call for papers now open