CeBIT promises Linksys 11g goodies
Plus lots and lots of boys' toys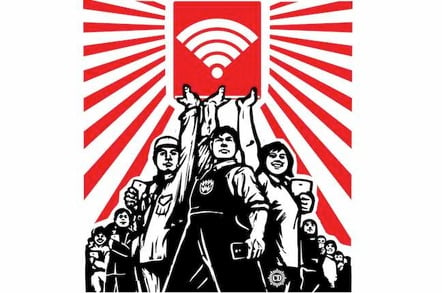 Gadget-hungry punters will not be disappointed to discover that Linksys will use CeBIT to unveil a range of 11g wireless routers to exploit the Broadcom 802.11g chip set.
Of course, most consumer markets will be more interested in the expected Linksys boys' toys. Like that £80 disk controller, or the Hi-Fi Wi-Fi audio system, or the Internet camera...
The video-streaming MediaLink is also set to impress, although hard-core techno fans will doubtless prefer a Wireless-G router which can handle a "real-world throughput" of around 30 or more megabits per second.
Linksys marketing boss Mike Wagner said the growth of wireless LANs in the UK is astonishing: "We have research from Del 'Oro showing that there were two million wireless LANs sold in the UK in 2002 and that this figure grew to 4,809,900 in 2003. That's 111 per cent growth but we're now predicting that it will hit eight million by the end of this year."
The Broadcom technology which shot Linksys to the number one slot in wireless LANs last year, when they were first out with the pre-standard version of 802.11g, now allows them to offer "SuperBoost 11g" products, which are not getting the extra throughput from channel bonding tricks.
Instead, quality-of-service firmware allows a 30 per cent speed increase, or more, using any of the 13 802.11 channels - even if someone in the area is using an old 11b device. Many systems get dual-802.11g speeds but they're restricted to channel 6, and they slow down to standard speeds if a conventional system is being used within range.
It's essentially the same router as the WRT54G product but with an "S" on the end, for superboost.
The result is that the legendary "Internet doorbell", first envisaged by Andy Hopper, is now a reality. A wireless video camera, with its IP address tracked by dynamic DNS, will allow you to watch whoever comes to your front door - even if you happen to be a thousand miles away - in a window on your PC. An audio link allows two-way voice communications.
The camera has hitherto been available only in America, but the arrival of the 11g version will see it launched in Europe.
The audio MediaLink is also 11b only; it will be joined by a video Medialink, using 11g high speed wireless. It's a useful little gadget because it doesn't need a PC to work, a sells for a reasonable £79 inc VAT.
The idea is that you can control the MediaLink entirely via its own infra-red remote, and surf the network for Internet radio stations - as long as your wireless router is switched on and connected to the Web. The audio can is delivered through speakers hung onto the side of the MediaLink, or through a hi-fi stereo system via standard jacks.
My personal favourite, however, is the only non-wireless toy on the list. Almost all of the new devices have the option of working on wired Ethernet, but the one that has to be connected is the disk controller.
This lets you have two USB hard disks on the network as network attached storage. Plug in a £99 USB hard drive, and the unit provides all network control functions: a web server, a Linux server, directory structure, and even working backup software. Couple this with a wireless MediaLink, and you can play back all your network MP3 music even when your PC is switched off, straight from the hard disks.
This is full 10/100/1000 megabit speed. It's also password protected access control for both individual users and for user groups.
And I'd expect Cisco's VoIP technology to be embedded in the thing within a year, although that's pure speculation on my part.
Finally, CeBIT will see the announcement of a print server - a £120 wired and wireless device which will drive USB 2.0 printers, as well as parallel port devices. Happy shopping.
© 2004 NewsWireless.Net
Sponsored: Minds Mastering Machines - Call for papers now open