Dell plots cheap SAN attack
EMC to help?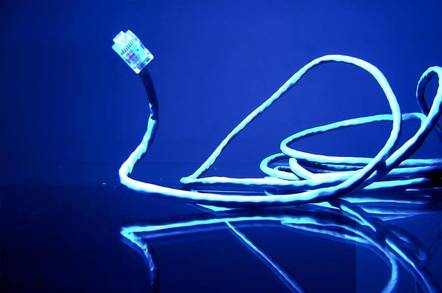 Dell plans to dip below partner EMC in the low-end of the storage market with a new SAN-in-a-can product bundle, a top executive said today.
Details are still thin, but Dell has confirmed that it will come out with a storage system priced below its current low-end CX300 SAN (storage area network) product. The box will also be accompanied by networking hardware to make setting up a low-cost SAN a more feasible project for small and medium-sized companies, said Russ Holt, Dell's vice president of enterprise engineering, during a conference call with analysts.
"We think we'll be able to continue to drive the cost out of entry level SAN configurations (with the new system)," Holt said. "Aligning with that platform is the delivery of a low-cost HBA solution and low-cost switch solution so . . . we will see a much lower cost of entry for SAN solutions."
Dell has only been a significant player in the storage realm for a short time. The company's overall position was boosted when it formed a partnership with EMC to sell SAN systems. Dell currently manufactures the low-end CX300 for EMC and resells that kit along with the higher end CX500 and CX700. All three of these products are new additions to both vendors' lines after EMC had a majorproduct refresh.
Tempting smaller companies with a SAN will not be easy in the short-term. The SAN "evolution" has taken a while with large companies making the move to heavily networked storage systems first. These vendors often run into serious problems making multivendor gear work together and keeping application performance high in a complex set up.
But with Dell doing the testing and configuration grunt work for customers, the cheap SAN-in-a-can idea does have its merits. It helps smaller companies keep up with cutting edge technology, while reducing some of the architectural risk associated with tweaking a storage network.
Dell's Holt declined to give any details on the product's name or exactly when it will come out.
"We wont give details on that product because it is not yet announced," he said bluntly.
The push, however, against EMC in the low-end could just be fluff. EMC is said to have two small SAN systems - the CX100 and CX150 - on the way. Dell may well manufacture these boxes, and then just wrap them with the HBA and switch bundle. ®
Sponsored: Minds Mastering Machines - Call for papers now open