IBM teaches sales force to go vertical
Lays down financial services pack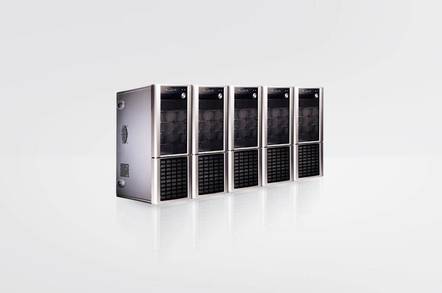 IBM on Monday kicked off phase one of a new sales strategy that includes bundles of middleware targeted at specific vertical markets. And the first such market to be hit is the financial services sector.
The chest-thumping from IBM here is a bit confusing at first. The software is not new and neither are the services that come as part of the package. IBM has also been selling software and services to the financial community for many, many years.
So what gives?
Well, Doug Brown, a marketing director at IBM, tells us that the new attack comes down to a better-trained sales force. IBM locked its 16,000 strong sales staffers in a dark room for several months, filling their brains with all the ins and outs of what the company can offer a bank, insurer or broker. The hope is that the Big Blue folk will have a better idea of what IBM's rich middleware portfolio can do and, more importantly, that the salespeople can convince business executives and not just IT staff of the software's value.
"We want to go in and talk to a CIO or vice president of claims just as easily as we would talk to the tech staff," Brown said.
In total, IBM wants to prove it can save customers time and money by rolling out a package of software as opposed to bits and pieces over a long period of time.
There are three basic bundles at present - middleware for financial markets, middleware for banking and middleware for insurance. Each package comes with five applications tailored for that industry. In the financial markets package, for example, IBM offers Risk and Compliance, Front Office Insight, Trade and Order Management, Financial Information Interchange and Post-Execution Integration software.
Like other large vendors, IBM also has hardware to go along with the code should the customer ask for it, as part of its industry integrated solution offering. Most of the software in the three packages is geared to run on IBM's pSeries Unix servers but Linux work is well underway.
Overtime, IBM will roll out similar bundles for government, communications companies, retail and industrial distribution.
So how much do the packages cost?
"It's hard to say what the price is," Brown said.
Uh-oh.
Customers can buy the five pieces of each package as a whole or break off the parts they need. So, depending on the customer's size, the price will vary quite a bit. We are, however, assured that customers worldwide can begin asking about the software bundles as of today. ®
Sponsored: Learn how to transform your data into a strategic asset for your business by using the cloud to accelerate innovation with NetApp