3Com plugs in its fastest LAN switch
Campus thang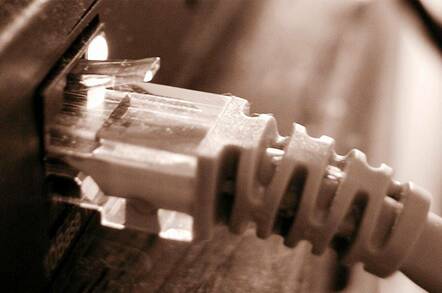 3Com today unveiled its highest-performance enterprise LAN switch to date.
The 3Com Switch 7700R, designed for enterprise campus network backbones, ships with Quality of Service and bandwidth management functionality designed to support to support "many thousands of users" and converged voice/video/data applications.
Part of the modular 3Com Switch 7700 range that was first introduced into the enterprise market in June 2003, the latest product offers one second fail-over to a redundant switch fabric. According to 3Com, local switching on each blade along with a high-performance switch fabric provides up to 96Gbps of performance for deployment in core environments.
Management is offered through a function of 3Com Network Administrator, which began shipping in November as an enhanced plug-in to the HP's OpenView management platform.
In addition to the hardware 3Com rolled out software with enhanced BGP4 and IS-IS routing protocol support designed to give greater scalability for service provider deployments across metropolitan area networks. The networking firm promised SNMP version 3 would help to secure remote management, while support for IEEE 802.1s Multiple Spanning Tree Protocol should improve network resiliency.
The 7700R 8-slot Gigabit Starter Kit is priced at $25,995 (US list) and is expected to start shipping in late January.
In a parallel announcement 3Com also lifted the lid its latest enterprise security switch, which it said is designed to address specific vulnerabilities or blended threats.
The Security Switch 6200 represents the fruits of an alliance and OEM deal between 3Com and Crossbeam Systems, under the terms of which 3Com rebrands and markets Crossbeam's kit under its own name.
The device, which is being targeted at head-offices and data centres within medium and large enterprises, ships with support for household name security applications- including Check Point NG FireWall-1/VPN-1, Internet Security Systems (ISS) RealSecure intrusion detection, together with a variety of antivirus and content filtering offerings.
According to Bob Tarzey, service director at analyst firm Quocirca, providing a single platform which supports multiple security applications can help to reduce administration costs: "Businesses want to maintain their best of breed approach to network security solutions, but administering multi-vendor environments can be a headache.
"Consolidating different applications onto a single platform eases maintenance, and there are potential cost savings." ®
Sponsored: Minds Mastering Machines - Call for papers now open