Europe's big biz starts buying telco kit again
Hybrid IP systems are must have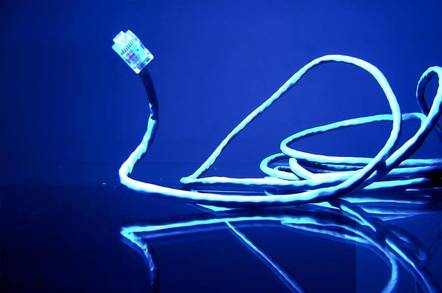 EMEA enterprise telephony market bucks downturn
After a spell in the market doldrums the EMEA enterprise telephony sector has returned to positive sales growth, with year-on-year increases in the third quarter of 2003 reaching almost 5 per cent.
According to Canalys, EMEA beat the global average which saw slightly more modest growth of 4.3 per cent over the same period.
Siemens remains the European leader with 20.1 per cent share while Alcatel came in a second with 15.5 per cent. However, third-placed Nortel and fifth-placed Avaya showed the highest per centage growth while Ericsson, in fourth position, lost ground.
The dominant technology driving sales was hybrid-IP systems, which offer customers investment protection for legacy equipment plus a migration path to a converged IP-based telephony environment.
Although Canalys said that these devices have dominated the EMEA market for some time, the study indicated that they continued to grow as a proportion in Q3, to around 70 per cent of all line shipments.
Alessandra Fitzpatrick, Canalys director and senior analyst, said the pure-IP segment, though still in its very early stages, is also growing at a "tremendous" rate.
"While pure-IP still represents just over 3 per cent of all lines shipped, this is growing at over 60 per cent year-on-year. It is true that the vast majority of lines shipped on hybrid systems are not IP-enabled today, but the fact that the capability is there lying dormant will make it difficult for companies such as Cisco to make inroads into the established vendors' existing customer base."
The research also indicates that Cisco, though still some way from appearing on the leader board in EMEA, is growing at a "healthy rate", with shipments up more than 150 per cent on the same quarter one year ago.
Canalys' analysts predicted that Cisco's next big IP telephony push would be towards the small and medium-sized business sector.
"The introduction of Cisco's CallManager Express provides it with an offering for smaller and branch offices. This broadening of its telephony solutions range into the sub-100 line segment will help Cisco continue to gain momentum, and we expect this to have an effect from Q1 next year," Fitzpatrick added.
The analyst company estimates that sub-100 line systems accounted for over two-fifths of all enterprise telephony line shipments in Q3 2003.
Sponsored: Learn how to transform your data into a strategic asset for your business by using the cloud to accelerate innovation with NetApp