What Big Bird knows about Sun
Sometimes you have to be a big, tall, yellow freak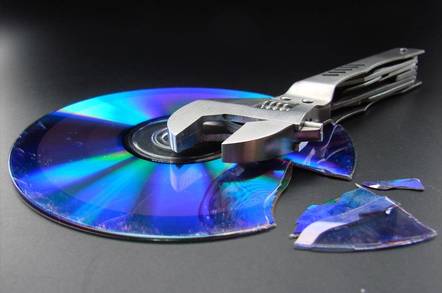 After attending the last two Sun Microsystems' user shows, we can only conclude that CEO Scott McNealy's children are huge Sesame Street fans.
Sun continues to offer up a notion often chanted on the kids programme that "being different is okay". Whether you are purple like a Sun server, have a $9 Supercuts hairdo or suffer from a relentless need to make car analogies, you are all right. Being different is neat. Muppet song begins here...
The latest proof of Sun's love for the weird comes courtesy of Sir George Martin's speech here in Berlin at the Sun Network conference. The "fifth Beatle" closed out the show by walking attendees through the creation of Sergeant Pepper's Lonely Hearts Club Band and how being different led to infinite success.
"I feel a special connection with Sun Microsystems and all you guys because you are innovators," Martin said. "You guys are on the cutting edge now, and I am not."
Be it Apple or Sun, "systems" companies seem to feel a kinship with the Beatles. Anyone can have Britney Spears hump a chair or, like Dell, move plain boxes out of a factory, but only the greats dare to be different and go at things their own way.
This theme is similar to that delivered earlier this year by comic legend John Cleese at another Sun conference. Cleese told attendees to dare to make mistakes.
It's not difficult to see what Sun is trying to do by throwing adventurous Brit luminaries at users. Sun is in the muck at the moment and wants observers to believe part of its problems are by design.
"It's wise to take a good risk rather than playing it safe," Martin said.
To that end, the Beatles' producer does have a point that fits well with Sun's ambitions. Analysts and the press corps berate Sun at every opportunity for losing cash, being stubborn and limping along.
But as disabled as Sun appears at times, it really has no other choice than to be different. The only major server vendor making money at this point and time is Dell. HP could not even pay an electricity bill with its server profits, and IBM goes from the red to the black like a roulette wheel. Both companies make their money elsewhere in good quarters and use the server for other sales.
Some analysts charge that Sun has lost its focus. The company is talking about Linux desktops, giving away its software at an insane price, still building its own chips and now dabbling with Opteron, Athlon and Xeon boxes. Then there is the whole Java pitch. When did Sun ever make money on this popular code?
A large swath of gurus see these big, confusing bets as Sun's flirtation with the undertaker's daughter, hoping she may pull some strings and secure a reasonable burial cost.
But from where we sit - in a Berlin press room surrounded by cookies and beer-rotted hacks - Sun really has few options other than to be different. If McNealy was made of cloth and had a funny voice, Bert and Ernie could not be more proud.
A healthy economic recovery would return the server business to the black, and make hardware makers look like winners again, but this is not what equates to long-term planning - at least not for Sun and not in the way it has been done in the past. It's not so much that Sun is irrelevant as some would have you believe but rather that the company plans to remain relevant for a while to come.
A less creative company would rest on its laurels as the big daddy of the data center, hoping the good times return and waiting for Michael Dell to be hit with a nasty case of career altering syphilis.
Yes, there are times when we look to the hardware heaven and pray that McNealy did not like hockey and cars quite so much. You can only hear about a puck going places or camshafts so many times. But we dare say Scooter is making some sense these days, and that there is some merit to this gift-wrapped hardware idea.
Take the Java Enterprise System, for example. It's here that Sun is attacking HP and Dell. These companies have no middleware stack and are dependent on partners to supply the code. These partners have lucrative software businesses, think Microsoft, and aren't about to let go of profits anytime soon. So Sun decided to ship its entire software stack for $100 per employee. Only IBM can match this package and isn't inclined to do so.
Or take a look at what Sun did this week with the JES for small companies. If you have 100 employees or less, the software arrives free of charge. The purchase price is in the Sun hardware.
This is a risky approach to be sure because it requires a commitment from the customer to Sun. To enjoy the spoils of our software, you must buy the metal to go with it.
It may be crazy, but at least it's different.
One reporter here described Sun as a medium-sized business and this is a damaging blow for the one-time data center darling. It does, however, indicate the current state of affairs. Sun has lost a lot of its lustre.
But those pundits who label Sun as the next SGI should see the company has little choice other than to follow this new, nail-littered road. For Sun to flourish as a server seller again, it has to change the nature of the sale in a way that other companies can't. Dumping Java, its Linux desktop efforts and chips, is not an answer to much of anything. Being different is Sun's only hope. ®
Sponsored: Minds Mastering Machines - Call for papers now open