The end of the Wireless access point?
Pctel infects the network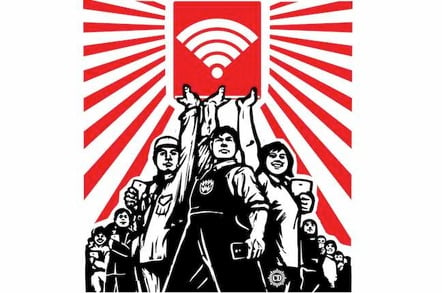 Despite today's Wi-Fi Planet show hype, the Pctel plan to turn all wireless PCs into access points isn't the only way of doing this: Cirond's SoftAP bundle was announced in May, and that let you do it yourself.
What makes the Pctel product, the Segue Soft Access Module (SAM) different, is the way the company plans to sell it - by making this a feature of every Wi-Fi product. It could become the IT manager's nightmare, turning every notebook PC into a rogue access point.
The original Cirond WINC product was announced as a $29.95 package, software only. The user would install it on the PC which was directly connected to the broadband cable, and then on another PC, enabling them to share the link. Effectively, it was Internet Connection Sharing over WLAN. There is also a Pocket PC version for handhelds.
Ironically, Cirond sells one of the most sophisticated Wi-Fi network managers, designed to prevent the appearance of rogue access points.
The drawback with WINC, was that you had to buy another $19.95 product for every new PC that you wanted to connect to the network.
The Segue SAM works in a very similar way, but doesn't require a SAM product on every client. Instead, it turns the first PC into a standard access point.
"It takes the complexity out of installing a Wi-Fi network," said Marty Singer, Pctel's chairman and CEO. "Traditional Wi-Fi networks require standalone access points and routers." Segue SAM software replaces those access points and routers, automatically scans the user's PC settings, and configures itself within seconds.
"By replacing hardware with software, Pctel once again lowers the cost of Internet access in the home, small office, or on the road. It's a great innovation," added Singer.
What isn't clear, however, is whether this software will have checks to prevent people from extending the network. It doesn't appear to be any sort of mesh network itself, but if it is possible to put a second wireless card into a notebook, and use that as an access point, then it would be, theoretically, possible to route the LAN from one client to the next, out into the street and down the road.
But end users won't be able to purchase this; it will come together with wireless products made by other hardware sellers: "If you're an ODM, OEM, or chipset manufacturer and would like more information on this product, or how to find out how purchase it, please contact the sales department," says the announcement.
The product from Cirond is downloadable free for short-term evaluation.
Copyright © 2003, NewsWireless.net
Sponsored: Learn how to transform your data into a strategic asset for your business by using the cloud to accelerate innovation with NetApp