Sun's McNealy hit with venom from European vipers
We want profits now!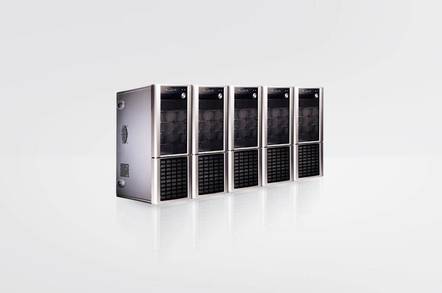 Sun Microsystems CEO Scott McNealy received a healthy dose of European skepticism today, as a vigilant press corps pushed hard for the executive to say when his company will be back in the black.
In the U.S., it's typically the analyst community that goes for Sun's jugular. The Yankee press is best at digging on product specs and lofting softball questions into McNealy's wheelhouse. But at the Sun Network show here in Berlin, the journalists got a taste for blood early on and then sought to tear the Sun beast open for a full on devouring.
During a question and answer session after McNealy's morning keynote speech, one reporter called on Sun to give a target date for returning to profitability.
"We don't speculate or predict that sort of thing," McNealy said. "We are not saying when or how (that will happen). We let the analysts predict that sort of thing and plan on proving a lot of them wrong."
This rather vague answer is not uncharacteristic for a CEO. Top dogs must tread carefully in the realm of prediction and speculation lest the SEC catch wind of any misguided optimism. It did, however, open the flood gates for the rest of the berating.
The reporters demanded to know why Sun should still be considered an interesting company, especially with healthy rivals like Dell churning out hundreds of millions in profit. "Show me the money!" was the collective cry.
From there another reporter went on to describe Sun as a small-to-medium-sized business, which prompted a full round of chuckles from the then salivating journos.
"I have $5.5 billion in cash," McNealy responded. "How much do you have?"
Chuckles all around again.
McNealy noted that Sun benefited more than any other company from the dot-com boom and must consequently suffer the fallout of that success in a post-bubble world.
"We went up faster and took more advantage of the bubble than anybody else," he said. "Then we got hit harder than anybody else. This makes us pretty exciting to read about."
McNealy then uttered something about a phoenix rising from the ashes, noting Sun's success with telcos.
"If you think telcos are going away, then I would sell your Sun stock," he said.
To its credit, Sun kept McNealy in front of the hounds for a good hour. There are few executives with a wit or the patience to withstand such a showing.
But the message delivered during the press conference was clear. The European ink spillers are hungry for profits from the dot-com darling and not afraid to say so. ®
Sponsored: Minds Mastering Machines - Call for papers now open